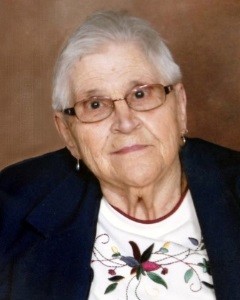 Service Information
Luceil Dallmann, age 84, of Litchfield, formerly of Cosmos, passed away Tuesday, April 11, 2017, at Meeker Manor in Litchfield. 
Funeral Service will be Tuesday, April 18, 2017, at 12:00 P.M. at Peace Lutheran Church in Cosmos, with interment in the Church Cemetery.
Visitation will be begin Tuesday, April 18, 2017, at 9:30 A.M. at Peace Lutheran Church, and continue until the time of the Service.
Visitation/Gathering
Peace Lutheran Church
140 Saturn Street N
Cosmos, MN
Service
Peace Lutheran Church
140 Saturn Street N
Cosmos, MN
Funeral Chapel
Hughes-Hantge Funeral Chapel
311 Main Street S.
Hector, MN 55342
Phone:(320) 848-6297
Cemetery
Peace Lutheran Cemetery (Cosmos)
Meeker County, Cosmos
Cosmos, MN
Obituary
Luceil Phyllis Dallmann was born July 2, 1932, in Cosmos Township, Meeker County, Minnesota, the daughter of Harlow and Clara (Beske) Reinke. She was baptized on July 31, 1932, at Peace Lutheran Church in Cosmos, and confirmed in her faith there on May 5, 1946. Luceil grew up in Cosmos Township, and graduated from the Litchfield High School.  
On April 29, 1960, Luceil was united in marriage to Eugene Dallmann at Peace Lutheran Church in Cosmos. Their marriage was blessed with two sons, Mark and Bradley. Lucy and Gene made their home in East Lake Lillian Township southeast of Lake Lillian where they raised their family and farmed. Lucy loved her role as housewife and mother while helping with the farming operation. In 1989, they retired from farming, and moved into Cosmos. When Luceil needed additional daily care, she moved to Ecumen of Litchfield, and eventually into Meeker Manor. Lucy and Gene had shared 55 years of marriage when Gene passed away December 8, 2015.
Luceil was a member of Peace Lutheran Church in Cosmos throughout her lifetime. While on the farm, she loved raising chickens. She enjoyed gardening, and making ceramics at Mary's Ceramics. Luceil liked to go bowling, and participated in leagues in Cosmos and Lake Lillian. She also liked going to the casino. Her family and friends were very important to her, and she enjoyed spending time with them. Each time she could, Lucy went with Eugene to their granddaughters' high school sporting events.
On Tuesday afternoon, April 11, 2017, Luceil passed away at the Meeker Manor in Litchfield, having reached the age of 84 years. Blessed be her memory.
Luceil is survived by her:
Sons, Mark Dallmann and his wife Mary of Lake Lillian, and
          Bradley Dallmann and his wife Heidi of Lake Lillian;
Granddaughters, Kayla (Brandon) Stafford of Sauk Rapids, and Natasha Dallmann of Lake Lillian;
Step-Grandson, Jared (Janelle) Groehler of Rochester;
Step-Great-Granddaughter, Eleanor Groehler;
Step-Great-Grandson, Theodore Groehler;
Sister, Bernice Maahs, of Cosmos;
other relatives, and many friends.
Luceil was preceded in death by her: Parents, Harlow and Clara Reinke; Husband, Eugene Dallmann; Half-Sisters: Violet Schiro, Ruth Bahr, and Laura Bach; Half-Brother, Wesley and his wife, Luverne, Laffen; Brothers-in-law: Erdman Maahs, Harvey Bach, Ervin Bahr, and Edwin Schiro.