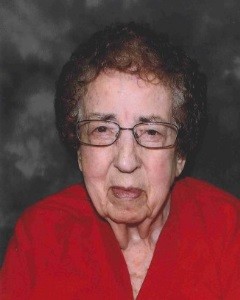 Service Information
Lucille Lundstrom, age 91, of Hector,  passed away Monday, June 19, 2017, at the Buffalo Lake Healthcare Center in Buffalo Lake.
Funeral Service will be held Saturday, June 24, 2017, at 11:00 A.M., at the Palmyra Covenant Church in rural Hector, with interment in the Palmyra Covenant Church Cemetery.  
Visitation will be Friday, June 23, 2017, from 4:00-7:00 P.M. at the Hughes-Hantge Funeral Chapel in Hector, and will continue Saturday at Palmyra Covenant Church for one hour prior to the service.
Memorials preferred to Palmyra Covenant Church.
Visitation/Gathering
Hughes-Hantge Chapel
311 Main Street South
Hector, MN
Website:hughes@hantge.com
Service
Palmyra Covenant Church
44031 County Rd 4
Hector, MN
Funeral Chapel
Hughes-Hantge Funeral Chapel
311 Main Street S.
Hector, MN 55342
Phone:(320) 848-6297
Cemetery
Palmyra Covenant Cemetery, Palmyra Township
44031 County Road 4
Hector, MN
Obituary
Lucille Alyce (Wilkinson) Lundstrom was born in Boon Lake Township, Renville County, Minnesota, to Clyde and Mary Wilkinson on December 10, 1925. After graduating from Hector High School, she worked for two years at Hector Construction doing bookkeeping and also at the Theater as a ticket seller.  
Lucille was united in marriage to Raymond Anderson on April 15, 1944. Four children were born to this union: Judy, Janis, Jerry, and Michael. Raymond passed away in 1953 due to an enlarged heart. A few years later Lucille and Clifford Anderson were married and one son, Joel, was born. Clifford died in 1963 due to cancer. On March 1, 1970, she married Carl Lundstrom. Carl died in 1975 due to cancer.
Through the years Lucille worked three years at the Gateway Café in Olivia, six years at the Buffalo Lake Healthcare Center, and 14 years at the Bob Johnson Real Estate Agency in Hector. Lucille loved taking care of home and family, writing poetry, and being active in the Palmyra Covenant Church. 
Early Monday morning, June 19, 2017, Lucille passed away at the Buffalo Lake Healthcare Center, having reached the age of 91 years. Blessed be her memory.
Lucille is survived by three children, Janis Cimperman of St. Cloud, Jerry Anderson of Buffalo Lake, Michael (Patricia) Anderson of Tallahassee, Florida, and her daughter-in-law Jae Anderson of Bethel, as well as four grandchildren, seven great-grandchildren, and numerous nieces and nephews.
She was preceded in death by her parents, Clyde and Mary Wilkinson, brothers Wallace Wilkinson and Ralph Wilkinson, sisters Neva Carlson, Lois Spiro, and Lola Pagel, her daughter Judy Johnson, and her son Joel Anderson.