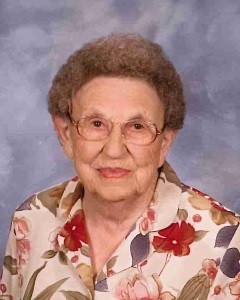 Service Information
Lucy Mae Schmidt, age 95, of Hutchinson, passed away Monday, March 21, 2016.
Funeral Services will be Monday, March 28, 2016, at 1:00 P.M. at Peace Lutheran Church in Hutchinson, with interment in Peace Lutheran Cemetery.
Visitation will be from 11:00 A.M. until the time of the service at the church.
Visitation/Gathering
Peace Lutheran Church
400 Franklin Street S
Hutchinson, MN
Service
Peace Lutheran Church
400 Franklin Street S
Hutchinson, MN
Funeral Chapel
Dobratz-Hantge Funeral Chapel
899 Highway 15 South
Hutchinson, MN 55350
Phone:(320) 587-2128
Cemetery
Peace Lutheran Cemetery (Hutchinson)
205th Drive
Hutchinson, MN
Obituary
Lucy Mae Schmidt was born on January 2, 1921, in Slayton, Murray County, Minnesota. She was the daughter of Joseph and Fern (Ankeny) Karl Sr. Lucy was baptized as an infant on February 6, 1921, at St. Ann's Church in Slayton and was confirmed in her faith on May 18, 1933, at St. Boniface Church in Stewart, Minnesota. She grew up and received her education in the Stewart and Hutchinson, Minnesota area.
On November 18, 1941, Lucy and Victor Schmidt were married by Reverend J. Weiss at his home in Brownton, Minnesota. They lived on Victor's family farm, where they raised their three daughters. They moved to Hutchinson, Minnesota, in 1964. Lucy worked at Triple D Café and then went to work in housekeeping at the Hutchinson Community Hospital. Lucy and Victor missed farming, so in October of 1975, they moved to a small farm site that they built east of Hutchinson. Besides taking care of their own farm, Lucy and Victor helped their daughter and son-in-law on their farm.
Lucy retired from the Hutchinson Community Hospital in 1992, but she and Victor still enjoyed "helping" at the Starke farm. They shared 62 years of marriage, until Victor passed away on January 23, 2004. Lucy continued to live on the farm until August of 2015. 
Hard work was Lucy's middle name. She never took time to just sit and relax. Lucy enjoyed old time music and dancing. She also enjoyed playing Pinochle. She was very social and loved to visit. Family members have lots of memories of the good times spent with Lucy.  
She was called home to eternal rest on Monday, March 21, 2016.
Blessed be her memory.
Lucy is survived by her:
Daughters, Arlene Schmeling and her husband, Louis of Hutchinson, MN,
Shirley Daak and her husband, Wesley of Hutchinson, MN;
Son-In-Law, Emil Starke of Hutchinson, MN;
Grandchildren, Amy Schmeling, Aaron Schmeling, Mark Starke and his wife, Leah, Randy Starke and his wife, Melissa, Scott Daak and his wife, Lori, Ann Miller and her husband, Mark;
Great Grandchildren, Hannah Starke, Abigail Starke, Samuel Starke, Isaac Starke, Jacob Starke, Grace Daak;
Brother, Edward Karl of Hutchinson, MN;
Sister-In-Law, Joyce Karl of Hutchinson, MN;
Many other relatives and friends.
Lucy is preceded in death by her Parents, Joseph and Fern Karl, Husband, Victor Schmidt, Daughter, Marion Starke, Sister, Mary Draeger and her husband, Stanley, Brothers, William Karl and his wife, Leola, Francis "Bud" Karl and his wife, Ihone, Joseph Karl Jr; Sister-In-Law, Cleo Karl.