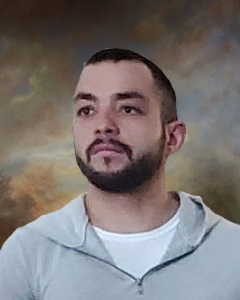 Service Information
Luis Eduardo "Bucky" Lopez, age 31, of Gaylord passed away Saturday, October 28, 2023, at his home in Gaylord.
Visitation will be Thursday, November 2, 2023, from 2 P.M. to 8 P.M. at the Egesdal Funeral Home in Gaylord. 
A prayer service will further unite everyone in love and reflection at 6 P.M.
Visitation/Gathering
Egesdal Funeral Home
74 Main Avenue
Gaylord, MN
Website:hantge.com
Funeral Chapel
Egesdal Funeral Home
74 Main Avenue
Gaylord, MN 55334
Phone:(507) 237-2388
Obituary
Luis Eduardo "Bucky" Lopez was born on June 19, 1992, in McAllen, Texas, he was a man of many layers and complexities.
In the chapters of his life where peace eluded him, Bucky found a transient solace in cycling, fishing, parkour, and music. These were not just hobbies but coping mechanisms, ways for him to escape, if only for a moment, from the realities that often overwhelmed him.
Though Bucky's actions often stood in stark contrast to societal norms, moments emerged that revealed his inner struggle and hinted at a yearning for something better. His life was a turbulent journey, filled with choices that many couldn't understand, yet those who loved him caught glimpses of a man wrestling with his own existence.
In the labyrinth of his life, Bucky leaves behind threads of light and darkness, lessons in resilience, and a complicated legacy that evokes a spectrum of emotions. It's a testament to the man he was—a blend of contradictions, a life of battles both lost and won.
Bucky passed away on October 28, 2023, in Gaylord, Minnesota, leaving behind a swirl of emotions and precious memories for those who knew him in his multifaceted life. Blessed be his memory.
Bucky is survived by his mother, Diana Gloria Guerrero and his step father, Ramon Bautista. Despite the challenging and often rocky paths Bucky walked, their dedication remained constant. He also leaves behind his siblings, Francisco G. Morales, Ricci Y. Morales, Larry J. Regalado, Jacklyn R. Lopez, and Chennya B. Echavarria, as well as 10 nieces and 5 nephews whom he loved unconditionally.