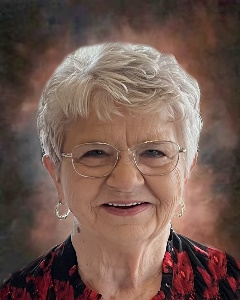 Service Information
Margaret J.  Swanson, age 80, of Paynesville, Minnesota, formerly of Hector, Minnesota, passed away on Thursday, May 4, 2023, at St. Cloud Hospital in St. Cloud, Minnesota.
Memorial Service will be held on Saturday, May 20, 2023, at 11:00 A.M. at Church of God in Eden Valley, Minnesota, with interment in Hector City Cemetery in Hector, Minnesota on Saturday at 3:00 P.M.
Gathering of Family and Friends will be held on Friday, May 19, 2023, from 3:00-7:00 P.M., at Dobratz-Hantge Funeral Chapel in Hutchinson, Minnesota, and will continue one hour prior to the service at the church.
Visitation/Gathering
Dobratz-Hantge Chapel
899 Highway 15 South
Hutchinson, MN
Website:hantge.com
Service
Church of God
553 Maple St
Eden Valley, MN
Funeral Chapel
Dobratz-Hantge Funeral Chapel
899 Highway 15 South
Hutchinson, MN 55350
Phone:(320) 587-2128
Cemetery
Hector City Cemetery
Renville County, Hector Township, Section 32
Hector, MN
Obituary
Margaret Jeanine (Mead) Swanson was born on November 12, 1942, at home on the farm in Sherman township, in Redwood County, Minnesota. She was the first born of ten children, and the daughter of William (Glenn) and Cecelia (Goelz) Mead. Margaret was baptized as an infant, and in June of 1963 as a member of the Hector Church of God of the Abrahamic Faith. In 1997, with the purchase of their home on Lake Koronis in Paynesville, she became a member of the Eden Valley Church of God. She served as Sunday school teacher, church treasurer, Minnesota State conference secretary for 24 years, and was a member of the Ladies' Aid all throughout her years as a member.
Margaret attended school at St. Mary's in Bird Island, Minnesota and was a graduate of the Hector High School Class of 1960. On January 3, 1962, Margaret married Harold Swanson at the Little Brown Church in the Vale at Nashua, Iowa. This marriage was blessed with four children, Jeffrey Todd, Lynn Ellen, Lee Allen, and Kurt William. Margaret and Harold shared 57 years of marriage.
Throughout her life she enjoyed various hobbies and educational pursuits including sewing many quilts, church banners and various holiday items. Along with completing pilot training, she enjoyed photography classes, traveling, baking, and time as a Mary Kay cosmetics beauty consultant. She worked at home with Harold on their farm in Martinsburg township and later as a secretary at the State Farm Insurance office in Hector. Margaret was also a business owner of Furniture Etcetera and Curves Fitness. During that time, she served as the Hector Community School district board secretary, and was a member of the Hector Lioness club, serving as the president, and vice president, and later in the Paynesville Lions Club as the secretary while serving on various committees.
Margaret later began a career with the United States Post office in Hopkins, Minnesota and worked various positions moving up from mail delivery, postal clerk, and then supervisor in Minneapolis, Rockford, Willmar, and retired as Paynesville Postmaster in 2008. She also worked for the United States Census Bureau in 2010 and 2020.
Margaret loved and enjoyed time with all her family, grandkids and many dear friends. She loved reading, many forms of art, travel, watching birds, and even the families of javelinas that crossed her home's path in Arizona.
Margaret is survived by her Daughter, Lynn Hennessey of Yakima, Washington, Grandsons, Jack Hennessey of Yakima, and Jordan Hennessey of Minneapolis; Grandson, Caleb Swanson of Hector (Courtney, and great-grandson, Sawyer Swanson); Granddaughter, Ella Swanson of Prior Lake; Kayloni Schwarzrock; Brigetta Hammer (Joe) and her children, Braya Munoz and Lincoln Schlueter; Siblings, Mary MacDowell of Green Valley, Arizona, Richard (Linda) Mead of Green Isle, Minnesota, Juanita (Lenny) Bruns of Mankato, Minnesota, Janet (Stephan) Kohls of Naples, Florida, Luci (Bert) Tellers of Waconia, Minnesota, Jim Mead of Green Valley, Arizona, Jeanne (Chuck) Buckentin of Norwood Young America, Minnesota, Julie (Dean) Mesenbring of Norwood Young America, Minnesota; Brother-in-law, Harlan (Margaret) Swanson of Minnetonka, Minnesota; and many extended family, relatives and friends.
Margaret is preceded in death by her Parents, William (Glenn) and Cecelia Mead; Brother, Jerome Mead; Husband Harold; Sons, Lee, Jeffrey, and Kurt; Mother and Father-in-Law, Mae and Albert Swanson; Brother-in-law, Terry MacDowell.