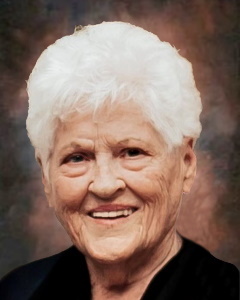 Service Information
Marian A. Sampson, age 87, of Hector, Minnesota, passed away on Tuesday, June 21, 2022, at her home in Hector.
Memorial Service will be held Friday, August 26, 2022, at 12:00 P.M. at First Lutheran Church in Hector, with interment in Hector City Cemetery.
Gathering of Family and Friends will be held on Friday, August 26, 10:30 A.M., an hour and a half prior to the service ALL at the church.
Memorial Service will be livestreamed on the First Evangelical Lutheran Church, Hector, MN Facebook page. Click on this link to get to the page: https://www.facebook.com/1.Lutheran.Hector.
Visitation/Gathering
First Evangelical Lutheran Church
220 5th Street West
Hector, MN
Service
First Evangelical Lutheran Church
220 5th Street West
Hector, MN
Funeral Chapel
Hughes-Hantge Funeral Chapel
311 Main Street S.
Hector, MN 55342
Phone:(320) 848-6297
Cemetery
Hector City Cemetery
Renville County, Hector Township, Section 32
Hector, MN
Obituary
Marian Arlis (Walter) Sampson was born to Adeline "Addie" (Schafer) and Alvin Roy Walter on August 31st, 1934, Marian was the cherished and equally adoring youngest of 4 children. Throughout her whole life she spoke warmly and with loving awe of her parents and siblings. A vivacious and industrious child, she was always first and foremost a loyal lifelong church member, but also given the superlative "Class leader," voted "Junior Class President," involved in theater, chorus, and her community. She was a dutiful daughter, especially in her home farm chores. Her annoyance at the hens pecking her hands as she collected their eggs may have contributed to chicken being one of her favorite foods. She graduated from Buffalo Lake High School in 1952. During this time, she met her husband, Curtis A. Sampson. They married in 1954, had four children and a lifetime of travel and adventures.
The wife of a successful entrepreneur, she herself was also a businesswoman, an avid collector (quilts, Hummels, beanie babies, and more), busy mother and grandmother, and an esteemed community and Church member with a huge network of close friends. Her community efforts were recognized in 2016 with the Hector Citizen of the year award presented during Corn Chaff Days.
Marian lived her life supporting those around her dutifully and enthusiastically. Together with lifelong friend Jolene "Jo" Klawitter, they founded K&S Catering. The odds are good if you are reading this you are familiar with their meals, desserts, and the impressive amount of people they could serve in one meal. They ran this business for 20+ years, an organizational feat for anyone, but especially women in that time.
Her family spills over with stories of her thoughtful, devoted, and generous nature, her soothing back scratches, the poise with which she carried herself - all this contrasted with how humbly she herself behaved. She could be found at Canterbury Park planting flowers and pulling weeds in the paddock gardens, usually in her crisp white capris. Her diligence earned her the title "Master Gardener," but she was uncomfortable with the vanity of such flattery.
Marian was always there to provide a baked good like her coveted apple pie, caramel rolls, a jar of her famous pickles, or plates upon plates of cookies. She never shied away from feeding or doting on her progeny's friends. She was blessed with much and gave generously and without hesitation any time she saw the opportunity. Deeply empathetic, Marian was a conversationalist with no equal. She seemed to always know what was needed - comfort, prayers, celebration, gentle encouragement, or even good-natured admonishment. She celebrated your successes as if they were her own, and mourned your losses with equal compassion. She went out of her way to make sure all around her felt loved and important; she called her family to sing happy birthday to them every birthday, took them back-to-school shopping every year, and would follow up on their lives and dreams with avid interest and steadfast support, even if the topic was unfamiliar to her. She found joy in all her family, including her cousins, who met monthly for "cousin's club." A lifelong advocate for fairness, she would describe herself as a dutiful rule follower and a "Child of God" whose priorities were very clear; faith and family.
Marian is survived and dearly loved by her four children and spouses, eleven grandchildren, eleven great-grandchildren; Marian's faithful companion, Addie; her sibling-in-laws, Ruth Stormo, Doris Walter, and Jim Kohout; and many cherished nieces, nephews, extended family members, and dear friends. Eldest Son, Paul (Karen); his children Reene (Jay Haskell), Matt (Jenna), Joe (Sara); and his grandchildren Moe, Elliot & Isla, June & Rory. Son, Randy (Sue); his children Rachel Gregor (Marty), Taylor (Georgia), Adam, Jack; and his grandchildren Harrison & Haley, Ruth & Mabel. Son, Russ (Donnelle); his child Sophie (Tom Sievers). Daughter, Susan Puchalski (Corey); her children Luke (Jessie), Alaina Owen (Josh), and Josh; and her grandchildren Henrik & Melody Maryan.
She is preceded in death by her husband, Curtis; parents, Addie and Alvin Walter; siblings Russell (Joan), Lois Reck (Wesley), and Merle; and 5 sister-in-laws and 4 brother-in-laws. Her surviving family misses her dearly, but finds comfort in knowing she is in God's tender care and with the family members she has so dearly missed.
Flowers may be sent directly to the church.
Per Marian's wishes, memorial gifts can be made to First Evangelical Lutheran Church in Hector.