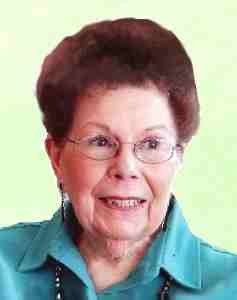 Service Information
Marian Ann Christiansen, age 94, of Silver Lake, formerly of Hutchinson, passed away Sunday, May 1, 2016 at Cedar Crest Estates of Silver Lake. 
Mass of Christian Burial will be held Thursday, May 5, 2016, at 11:00 A.M. at St. Anastasia Catholic Church in Hutchinson, with Interment in the Church Cemetery. 
Gathering of family and friends will be one hour prior to the service at the church on Thursday.
Visitation/Gathering
St. Anastasia Catholic Church
460 Lake Street South
Hutchinson, MN
Service
St. Anastasia Catholic Church
460 Lake Street South
Hutchinson, MN
Funeral Chapel
Dobratz-Hantge Funeral Chapel
899 Highway 15 South
Hutchinson, MN 55350
Phone:(320) 587-2128
Cemetery
St. Anastasia Catholic Cemetery (Hutchinson)
Hwy 15 N.
Hutchinson, MN
Obituary
Marian Ann Christiansen was born on March 2, 1922, in St. Paul, Minnesota.  She was the daughter of Joseph and Marion (Arnoth) Linn.  Marian was baptized as an infant and was later confirmed in her faith as a youth.  Marian attended a country school near North St. Paul. 
On May 29, 1939, Marian was united in marriage to Alvin Christiansen in Hudson, Wisconsin.  This marriage was blessed with two children, Virginia and Ronald. Following their marriage, Marian and Alvin resided in St. Paul until 1957, when they moved to Hutchinson, Minnesota. In 1963, they moved to Camarillo, California, where they lived until 1978. They then moved to Woodland Park, Colorado.  Marian and Alvin returned to Hutchinson in 1992.   They shared 56 years of marriage until Alvin passed away on March 23, 1996.
In addition to being a loving homemaker and mother, Marian worked as a Secretary at many various companies throughout her career.   She retired in 1963. Marian attended St. Anastasia Catholic Church in Hutchinson.
Marian was an avid reader.  She was an excellent seamstress and loved to sew and crochet.   Marian was a gifted painter, and especially enjoyed oil paintings, which family members now enjoy.   She especially cherished the time she spent with her children and grandchildren.
When Marian needed assistance with her daily care, she became a resident of the Cedar Crest Estates in Silver Lake, Minnesota, on May 3, 2012.  She passed away there on Sunday, May 1, 2016, at the age of 94 years.
Blessed be her memory.
Marian is survived by her:
Daughter, Virginia Wegscheid and her husband Virgil of Hutchinson, MN;
Daughter-In-Law, Janet Christiansen of Sanger, CA;
Grandchildren, Gregory Wegscheid and his wife, Julie of Hector, MN, 
Elaine Wegscheid of Lakeville, MN,
Kelly Wegscheid of Ramsey, MN,
Paul Wegscheid of Chetek, WI
David Wegscheid and his wife, Carmen of Hutchinson, MN,
Mark Wegscheid and his wife, Heidi of Mound, MN;
18 Great Grandchildren;
8 Great Great Grandchildren;
Nieces, Nephews, many other relatives and friends.
Marian is preceded in death by her Parents, Joseph and Marian Linn; Husband, Alvin Christiansen; Son, Ronald Christiansen; Grandson, Michael  Wegscheid; 7 Siblings.