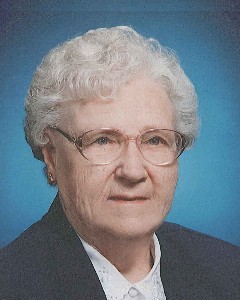 Service Information
Marie Kuehn age 96, of Winthrop, passed away Saturday, October 3rd, 2015, at the Good Samaritan Society in winthrop.
Funeral Service will be Friday, October 9th, 3:00 P.M. at Peace Lutheran Church in Winthrop, with interment in the Winthrop Cemetery.
Visitation will be Thursday, October 8th, from 4:00 P.M.-8:00 P.M. at Peace Lutheran Church in Winthrop. Visitation will continue one hour prior to the service at the church on Friday.
Visitation/Gathering
Peace Lutheran Church
413 W 5th Street
Winthrop, MN
Service
Peace Lutheran Church
413 W 5th Street
Winthrop, MN
Funeral Chapel
Dalin-Hantge Funeral Chapel
209 West Second Street
Winthrop, MN 55396
Phone:(507) 647-5326
Cemetery
The Winthrop Cemetery
Winthrop, Sibley County
Winthrop, MN
Obituary
Marie Anna (Rosenback) Kuehn was born on November 25, 1918, in Waterbury Township, Redwood County, Minnesota. She was the daughter of Martin and Mary (Weilage) Rosenback. Marie was baptized as an infant and was later confirmed in her faith as a youth at St. John's Lutheran Church in Vesta, Minnesota. She received her education at country school.
On April 12, 1936, Marie was united in marriage to Melvin Kuehn at St. John's Lutheran Church in Bismarck Township. After their marriage, the couple farmed near Fernando and in 1973 moved into Winthrop. She was also employed as a certified nurse's assistant at the Good Samaritan Society in Winthrop for more than 25 years, retiring in 1988. This union was blessed with three children. Marie and Melvin shared 61 years of marriage before Melvin passed away on January 28, 1998.
Marie was an active member of Peace Lutheran Church in Winthrop. She was also a member of the Senior Citizens Group and volunteered with meals on wheels.
Marie enjoyed traveling, gardening, and baking. She loved babysitting her grandchildren and spending time with her family.
When she needed assistance with her daily care, Marie became a resident of the Good Samaritan Society in Winthrop on January 1, 2014, and passed away there on Saturday, October 3, 2015, at the age of 96 years. Blessed be her memory.
Marie is survived by her:
Children,         Lorraine Ravnaas and her husband, Edward of Harrold, SD, and
                        Eugene Kuehn and his wife, Marlene of Winthrop, MN;
Grandchildren, Dan Witucki, Tom (Celeste) Witucki, Julie (John) Roberts, Cindy (Mark) Gleason, and Joanne Kuehn and special friend, Joe;
Great-Grandchildren, Nathan Witucki, Megan (Andrew) Schmidt, John (April) Weber, Catie Weber, Philip (Reva) Weber, Nick Weber, Rachel (Cade Kachelmeier) Gleason, Courtney Gleason and special friend, Robert, Eugenia (Andy Pietsch) Kuehn;
Great-Great-Grandchildren, Grace Struck, Sofia Weber, Natalie Weber, Paige Weber, Jackson Weber, Olivia Harris, Cole Shoen, Quinn Schmidt, Claire Schmidt, and Alex Pietsch;
Sisters-In-Law, Roline Markwardt of Minneapolis, MN, and Evelyn Springer of Detroit Lakes, MN;
Nieces, Nephews, other relatives and friends, including her furry friends, Obi, Sara, and Coco.
Marie was preceded in death by her Parents, Martin and Mary Rosenback; Husband, Melvin Kuehn; Son, Alvin Kuehn; Son-In-Law, Fred Witucki; Siblings, Esther (Harold) Kuehn, Florence (Curly) Callahan, Dietrich (Joanie, First Wife; and Bonnie, Second Wife) Rosenback, Alice Towers, Robert (Leona) Rosenback, Mabel (Joe) Baier, and Henry (Bonnie) Weilage.