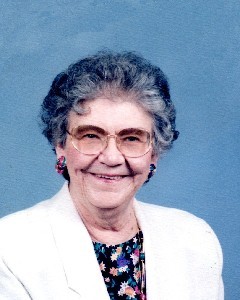 Service Information
Marie Kneip age 91, of Fairfax, passed away Thursday, November 19th, 2015, at the Fairfax Community Home in Fairfax.
Mass of Christian Burial will be Monday, November 30th, 11:00 A..M. at St. Andrew's Catholic Church in Fairfax with interment in the church cemetery.
Visitation will be from 9:30 A.M. until the service at the church on Monday.
Visitation/Gathering
St. Andrew's Catholic Church
15 SE 1st Street
Fairfax, MN
Service
St. Andrew's Catholic Church
15 SE 1st Street
Fairfax, MN
Funeral Chapel
Hauser-Hantge Funeral Chapel
601 South Park Street
Fairfax, MN 55332
Phone:(507) 426-7274
Cemetery
St. Andrews Catholic Cemetery (Cairo Twp)
Cairo Township, rural Fairfax, Renville County, MN
Fairfax, MN
Obituary
Marie Theresa (Kaiser) Kneip was born on December 7, 1923, in Mahnomen, Minnesota. She was the daughter of Leo T. and Anna (Liebl) Kneip. Marie was baptized as an infant and was later confirmed in her faith as a youth. She received her education at St. Michael's Catholic School in Mahnomen and attained her GED.
On October 27, 1947, Marie was united in marriage to John A. Kneip at St. Michael's Catholic Church in Mahnomen. After their marriage, the couple farmed near Gary, Minnesota, moved to Ada, Moorhead and then in 1959 moved to Bloomington. Marie was employed as a cook for the Bloomington Schools for 25 years, retiring in 1999. After she retired, she moved to Cold Spring and then to Fairfax. She was a loving mother and homemaker. Marie and John were blessed with three children and they shared 44 years of marriage before John passed away.
Marie was a member of St. Andrew's Catholic Church in Fairfax and a former member of St. Boniface Catholic Church in Cold Spring, Minnesota.
Marie enjoyed volunteering, making things for the needy, antiquing, sewing, quilting, crocheting, baking, reading, watching Wheel of Fortune, loved rummage sales and shopping, visiting and socializing. She loved spending time with her family, especially her children, grandchildren and great-grandchildren.
When she needed assistance with her daily care, Marie became a resident of Fairfax Community Home and passed away there on Thursday, November 19, 2015, at the age of 91 years. Blessed be her memory.
Marie is survived by her:
Children,         Karen Guggisberg of Fairfax, MN,
                        John T. (Denise) Kneip of WA, and
                        Barbara Kneip and special friend, John of IN;
Grandchildren, Debhora Guggisberg, Cynthia (Gary) Moser, Kathleen (Tim) Jones, Diane (Dan) Mikkelson, Rebecca Guggisberg, Ammisty Carter, Jonathon (Dawn) Carter, Matthew Schmitt, and Sarah Schmitt and special friend, Ben;
13 Great-Grandchildren;
Sisters, Audrey Stalboerger and JoAnn Loher;
Sisters-In-Law, Mary Ann Kaiser and Emma Kaiser;
Numerous Nieces, Nephews, other relatives and friends.
Marie was preceded in death by her Parents, Leo and Anna Kaiser; Husband, John A. Kneip; Sister, Reine and Art Stalberger; and Infant Brothers, John and Joseph; Brothers, Donald Kaiser, James Kaiser, Theodore and Shirley Kaiser; Son-In-Law, Joseph Guggisberg; Brothers-In-Law, Herbert Stalboerger and James Loher.