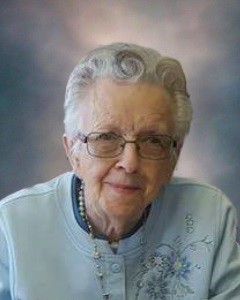 Service Information
Marjorie Showalter, age 88, of Hutchinson, Minnesota passed away Thursday, November 16, 2017, at Woodstone Senior Living in Hutchinson.
A Memorial Service will be held Tuesday, November 21, 2017, 11:00 A.M. at Hartquist Funeral Home - Lake Benton Chapel in Lake Benton, Minnesota. Interment will be in the Memorial Hill Cemetery in Lake Benton.
Gathering of Family and Friends will be held one hour prior to the service at the chapel.
Visitation/Gathering
Service
Funeral Chapel
Dobratz-Hantge Funeral Chapel
899 Highway 15 South
Hutchinson, MN 55350
Phone:(320) 587-2128
Obituary
Marjorie Ann Showalter was born on June 23, 1929, in Sutherland, Iowa. She was the daughter of Nathan and Myrtle (Maranell) Crooks. Marjorie was baptized as an infant, and was later confirmed in her faith as a youth in Bertha, Minnesota.  She received her education at Lake Benson High School Class of 1947.
On September 21, 1947, Marjorie was united in marriage to Virgil Showalter at St. Paul's Lutheran Church in Worthington, Minnesota. This marriage was blessed with five children, Rose, Vernon, Raymond, Charles, and Elaine. Marjorie was a loving homemaker to her husband and children. Marjorie and Virgil resided in Lake Benton, Windom, and later moved to Hutchinson in 1992. They shared 49 years of marriage until Virgil passed away on February 28, 1997.
Marjorie enjoyed crocheting afghans and doilies, baking, and cooking. She also enjoyed traveling to Germany and England. She especially enjoyed spending time with her family, grandchildren and friends.
When Marjorie needed assistance with her daily care, she became a resident at Woodstone Senior Living in Hutchinson in 2014. She passed away there on Thursday, November 16, 2017, at the age of 88 years.
Blessed be her memory.
Marjorie is survived by her:
Children, Rose Rossow and her husband, Steve, of Northfield, MN,
                Vernon Showalter and his wife, Marilyn, of Hutchinson, MN,
                Raymond Showalter and his wife, Jill, of Hutchinson, MN,
                Charles Showalter of Hutchinson, MN,
                Elaine Bramstedt and her husband, George, of Windom, MN;
18 Grandchildren;
31 Great-Grandchildren;
Siblings, Miriam Wolf of Spokane, WA,
               Donald Crooks of Astoria, SD;
Sister-In-Law, Lois Crooks of Lake Benton, MN;
Nieces, Nephews, and many other relatives and friends.
Marjorie is preceded in death by her Parents, Nathan and Myrtle Crooks; Brothers, Gerald Crooks, Richard Crooks, and Everett Crooks; Brother-In-Law, Norman Wolf; Sisters-In-Law, Gertrude Crooks, Patricia Crooks, and Ruth Crooks; and Great-Grandchild, Macully Showalter.