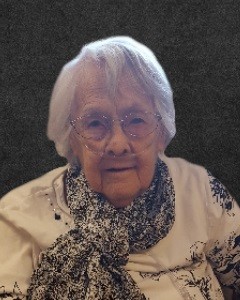 Service Information
Marjorie G. Davies, age 96, of Hutchinson, passed away Wednesday, March 22, 2017, at Harmony River Living Center in Hutchinson.
A Celebration of Life will be held Sunday, April 2, 2017, at 3:00 P.M. at Hunter's Ridge Community Church in Hutchinson.
Gathering of Family and Friends will be held one hour prior to the service at the church.
Visitation/Gathering
Hunter's Ridge Community Church
850 School Road SW
Hutchinson, MN
Service
Hunter's Ridge Community Church
850 School Road SW
Hutchinson, MN
Funeral Chapel
Dobratz-Hantge Funeral Chapel
899 Highway 15 South
Hutchinson, MN 55350
Phone:(320) 587-2128
Obituary
Marjorie Gertrude Bergh Davies was born on September 15, 1920, in Cereal, Alberta, Canada.  She was the daughter of Oscar and Julia (Branes) Bergh.   Marjorie was baptized as an infant at the Solar Lutheran Church in Cereal, and was later confirmed in her faith as a youth in Sinai Lutheran Church in Sinai, South Dakota.  She was born on her older sister, Thea's 4th birthday, and was one of twins.  Her twin, Marie Elizabeth, died about 2 months of age from a malfunction of her digestive tract.  Thea, when she saw her twin sisters for the first time, remarked in Norwegian, "I would have thought one would have been enough"!  Marge was extremely shy as a child, and loved to read - so much so, that her only brother thought he should warn her husband-to-be, mentioning in a letter to Graham that she was an "inordinate reader".
Marge lived in Canada until the family moved to South Dakota in 1926.  She attended a small rural school with one teacher for Grades 1-8.  Her first year of high school was in the town of Sinai, and her last three years were at a Lutheran Christian school, Augustana Academy in Canton, South Dakota, where she was homecoming queen her senior year in 1936. 
She was privileged to grow up in a Christian home where Bible reading, prayer, and church attendance were part of their lives.  She gave her heart to the Lord at an evangelistic meeting in their Lutheran church when she was 12.  The greatest change at that time was that she started to enjoy the Bible stories, whereas before she had gone to church dutifully. 
Part of Marge's education was taking X-ray training in Minneapolis, Minnesota, where she came under the deeper life teaching of Pastor Dahle and Pastor Hegre.  In 1946 she joined her sisters, Ruth and Thea, and five other families to begin Bethany Fellowship.  Shortly after that, being sure of a call to work with lepers, she joined Worldwide Evangelistic Crusade (WEC), did a year of training in laboratory work, and left for Liberia, West Africa in 1949.  During her first term in Liberia, she met Graham Davies from England, and they were married in England in 1958.  Their daughter Phyllis was born in 1960, and their son, Glyn, was born in 1962. 
During the 30 years that Marge lived and worked in Liberia, she worked among 3 tribes; the Gio, the Mano and the Bassa tribes.  She taught school, worked in clinics and did a lot of evangelistic trekking into the villages.  She and Graham did business agent work in Monrovia, the capital city of Liberia, and also spent several years doing evangelistic work in the Firestone rubber plantations.  After Graham passed away from cancer in 1974, she returned to Liberia to head a Christian Women's Training Center.  At this facility women from different churches and tribes would meet for a 2-week course in basic life skills such as: reading, writing, counting, simple adding and subtracting, cooking, hygiene, sewing, soap-making, child care and biblical teaching.
In 1979 she retired to Hutchinson, Minnesota to be close to her older sister, Ruth, while her children completed their training at Bethany Fellowship.  In 1982 her sister, Thea, retired from missionary work in India and moved in with her.  Together they lived in a 2-bedroom apartment in Hutchinson, where they were both actively involved with their church, Bible Studies, and prayer meetings. 
At her 90th birthday party Marge referred to her life as a "sandwich", made up of 3 equal parts.  The bottom slice is her Christian upbringing and preparation for missionary work.  The tasty filling is made up of her years as a missionary in Liberia.  And the top slice is made up of her years spent in prayer ministry in Hutchinson.
Her "present favorite" verse is Psalms 141:2 "May my prayer be counted as incense before Thee; the lifting up of my hands as the evening offering."
When Marjorie needed assistance with her daily care, she became a resident of the Harmony River Living Center in Hutchinson, Minnesota on August 7, 2015.  She passed away there on Wednesday, March 22, 2017, at the age of 96 years.  Blessed be her memory.
Marjorie is survived by her:
Children, Glyn Davies of Hutchinson, MN;
                Phyllis Mackinnon of Hutchinson, MN;
Grandchildren, Shane Mackinnon and Sheldon Mackinnon of Hutchinson, MN;
Sister, Dorothy Steinberg of Kent, WA;
Brother-In- Law, Walt Iverson of Toronto, SD;
Nieces, Nephews, many other relatives and friends.
Marjorie is preceded in death by her: Husband, Ernest Graham Davies; Parents, Oscar and Julia Bergh;  Sisters Cecelia Holter and her husband Adolph, Thea Bergh, Ruth Billman and her husband Herb;  Marie Elizabeth Bergh her twin in infancy; Brother Oliver Bergh and his wife Judith; Brother-in-law Jay Steinberg; Sisters Clarice Dravland and her husband Alvin, Audrey Iverson.