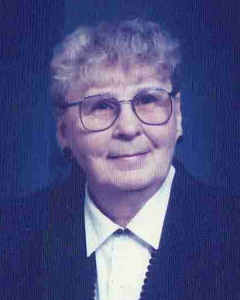 Service Information
Marjorie "Marge" Strasmann, age 92, of Glencoe formerly of Hutchinson passed away Wednesday, July 13, 2022, at GlenFields Living With Care.
No services will be held per Marge's request.
Funeral Chapel
Johnson-McBride Funeral Chapel
1222 Hennepin Avenue
Glencoe, MN 55336
Phone:(320) 864-3737
Obituary
Marjorie "Marge" Strasmann was born on November 9, 1929, in Duluth, Minnesota. She was the daughter of Clyde and Elsie (Anderson) Lawson. Marge was baptized as an infant and was later confirmed in her faith as a youth. She received her education at Central in Duluth and was a graduate of the Central High School class of 1946.
On May 24, 1981, Marge was united in marriage to Raymond Strasmann. Marge and her husband Ray made their home in Hutchinson, MN, and later in Darwin, MN.
Marge enjoyed her 2 cats, gardening, and antiquing. She cherished the time she spent with her family and her friends.
When she needed assistance with her daily care, Marge became a resident of GlenFields Living With Care in Glencoe and passed away there on Wednesday, July 13, 2022, at the age of 92 years.
Marge is survived by her:
Sons,   Michael Tassinari and his wife, Linda of Glencoe, MN, and
             Tom Tassinari and his wife, Joyce of Bruce, WI;
Grandchild, Tom Tassinari Jr. of Duluth, MN;
Brother, Tom Lawson;
Friends.
Marge was preceded in death by her Parents, Clyde and Elsie Lawson; Husband, Raymond Strasmann.