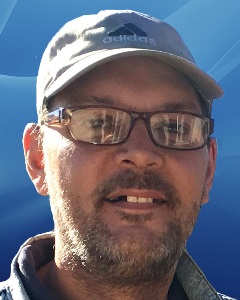 Service Information
Mark DeWitte, age 52, of Gaylord passed away peacefully with his mom and brother by his side on Wednesday, December 21, 2022, at his home in Gaylord.
Mass of Christian Burial will be Monday, December 26, 2022, 11:00 A.M. at St. Michael's Catholic Church in Gaylord with interment in St. Mary's Catholic Cemetery in Arlington.
Visitation will be one hour prior to the service on Monday in the church Fellowship Hall.
Gathering for a time of fellowship at Tanker Bay Sports Bar in Winthrop following the burial.
Memorials preferred to Aveyron Homes, 222 5th Ave. NW, Hutchinson, Minnesota 55350.
Visitation/Gathering
St. Michael's Catholic Church
411 Court Avenue
Gaylord, MN
Service
St. Michael's Catholic Church
411 Court Avenue
Gaylord, MN
Funeral Chapel
Egesdal Funeral Home
74 Main Avenue
Gaylord, MN 55334
Phone:(507) 237-2388
Cemetery
St. Mary's Catholic Cemetery (Arlington Township)
Arlington Township, Sibley County
Arlington, MN
Obituary
Mark Randall DeWitte was born on August 11, 1970, in Edina, Minnesota. He was the son of Jerome and Linda (Carlson) DeWitte. Mark was baptized as an infant on September 13, 1970, at St. John the Baptist Catholic Church in Savage, Minnesota. He attended O'Gorman High School in Sioux Falls, South Dakota.
Mark was diagnosed with Schizophrenia at the age of 16. He lived the best life possible. He had been living at Aveyron Homes for the past eight years. Recently he was diagnosed with cancer. Mark moved home to be with his family while in hospice.
Mark enjoyed his music and loved all of his family. He also enjoyed going out to have a cigarette or a cigar and having two beers on Monday and Friday's with his brother, Mike, to play pull tabs and video lottery.
Mark passed away peacefully on December 21, 2022, at 6:30 P.M. with his mom and brother by his side, at the age of 52 years. Blessed be his memory.
Mark is survived by his:
Mother,           Linda DeWitte;
Brother,           Mike (Kim) DeWitte;
Nieces and nephews, J.C. DeWitte, Tristan DeWitte, Chance DeWitte, Delanie DeWitte, and Phoebe DeWitte;
Other relatives and friends.
Mark was preceded in death by his Grandparents, Leonard and Geraldine Carlson and Reine and Alice DeWitte; Father, Jerome DeWitte.
We would like to give thanks to all the staff at Aveyron Homes and the Allina Hospice Care Team.