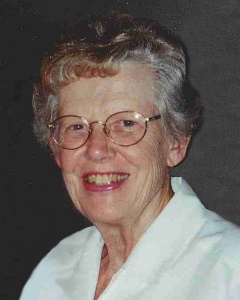 Service Information
Marlys A. Rehmann, age 95, of Glencoe, Minnesota, passed away Sunday, January 15, 2023, at Glenfields Living With Care in Glencoe, Minnesota.
Funeral Service will be Thursday, January 19, 2023, 2:00 P.M. at Christ Lutheran Church in Glencoe with interment in the Glencoe City Cemetery.
Visitation will be Thursday, January 19, 2023, from Noon-2:00 P.M. (2 hours prior) ALL at the church.
Memorials preferred to Alzheimer's Association.
The service will be live-streamed at  https://www.youtube.com/watch?v=Vah8fRQSxV0.
Visitation/Gathering
Christ Lutheran Church
1820 Knight Avenue N
Glencoe, MN
Service
Christ Lutheran Church
1820 Knight Avenue N
Glencoe, MN
Funeral Chapel
Johnson-McBride Funeral Chapel
1222 Hennepin Avenue
Glencoe, MN 55336
Phone:(320) 864-3737
Cemetery
Glencoe City Cemetery
301 Chandler Ave. N
Glencoe, MN
Obituary
Marlys Ann Rehmann was born on July 22, 1927, to Ed and Viola (Grimm) Hoernemann. She was born on the family farm in Bergen Township. Frieden's County Line Church of Plato was her home church and her faith was a very important part of her life. Her early years of education took place at the District 19 country school. She graduated from the Glencoe High School (Steven's Seminary) with the class of 1944.
Marlys learned many important life lessons growing up as a young girl on a farm. She learned how to work hard! Caring for the animals and the land taught her responsibilities. Since she was an only child, she loved when she could play with neighbor girls that lived close to her farm.
The Rehmann's always knew each other as they rode the bus together during their school years.  Their love story began when Rollie drove Marlys home from a dance when they were teenagers.  Little did they know they would attend hundreds of dances together throughout the coming years.  Marlys and Rollie were married on June 29, 1948, at Frieden's County Line Church. That wedding day began a wonderful 74-year relationship. One of the first difficulties they faced as a couple was when Rollie was drafted. Marlys moved back to the family farm and Rollie fulfilled his obligation to the United States Army.
Their marriage was blessed with the birth of two daughters, Peggy and Karla. Through the years the entire family enjoyed living on Knight Avenue in Glencoe and attending the church at the end of the block. Marlys was very active in Christ Lutheran Church through the years.
Marlys was a talented homemaker, a wonderful cook, and a talented baker. In the summer she had a big garden and processed all those fruits and vegetables for her family. Marlys was a whiz with fabric and a sewing machine, and she had a talent for embroidering as well. She often sewed beautiful dresses for her girls as well as drapes, curtains, and quilts.
Marlys had a unique characteristic in that she almost always worked outside the home, but never applied for a job. Potential employers sought her out as an employee as they heard she was a talented and hard-working individual. She worked at the Glencoe Mill, the Glencoe Clinic, the City clerk's office, John Deere, and the Federal Land Bank. Her aptitude for numbers and being precise served her well at those jobs.
If Marlys said she was going to do something you could count on her following through – she was very dependable and dedicated. Her dedication to Rollie and her family was unwavering and she was a rock of stability through the years for her husband and her girls.
In 1980 Rollie and Marlys bought the Coast-to-Coast store in downtown Glencoe and they worked side by side for 9 years. They were able to enjoy many years of retirement to travel, play golf and enjoy each other's company.
Jesus called her home on January 15, 2023. Thanks be to God for the gift of knowing and loving Marlys.
Marlys is survived by her:
Husband,    Roland "Rollie" Rehmann of Glencoe, MN;
Daughters,  Peggy (Steve) Hatlestad of Litchfield, MN,
                   Karla (Tim) Ardolf of Glencoe, MN;
Grandchildren, Tracy Hatlestad, Andy (Erin) Hatlestad, Leanne (Jamie) Ost and Mitch Dahlke;
Great-grandchildren, Grady, Dane and Evie Hatlestad and Carter, Camden and Aubrey Ost;
Step-grandchildren, Tessa (Jordan) Lange and Gracie and Garret Ardolf;
Other relatives and many friends.
Marlys was preceded in death by her Parents, Ed and Viola Hoernemann; Father-in-law and Mother-in-law, Otto and Alma Rehmann; Brother-in-law, Howard Rehmann; Sister-in-law, Lorraine Rehmann; many special aunts, uncles, cousins and friends.