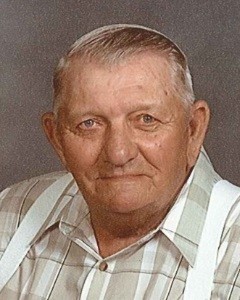 Service Information
Marvin Wiehr, age 84, of Hector, passed away Thursday, June 18, 2015, at the Renville County Hospital in Olivia.
Funeral Service will be Monday, June 22, 2015, at 11:00 A.M. at the United Methodist Church in Hector, with interment in the Hector City Cemetery.
Military Honors provided by the Carl O. Potter American Legion Post 135.
Visitation will be Sunday from 4:00 – 7:00 P.M. at the Hughes-Hantge Funeral Chapel in Hector, and will continue for one hour prior to the service at church on Monday.
Visitation/Gathering
Hughes-Hantge Chapel
311 Main Street South
Hector, MN
Website:hughes@hantge.com
Service
United Methodist Church
300 2nd Street West
Hector, MN
Funeral Chapel
Hughes-Hantge Funeral Chapel
311 Main Street S.
Hector, MN 55342
Phone:(320) 848-6297
Cemetery
Hector City Cemetery
Renville County, Hector Township, Section 32
Hector, MN
Obituary
Marvin Fredrick Wiehr was born May 1, 1931, to Fred and Elsie (Walter) Wiehr in Melville Township, Renville County, Minnesota.  He was baptized as an infant, and later confirmed in his faith.  He graduated from Bird Island High School in 1950.
Marv married Dona Mae Johnson on May 20, 1951.  To this union were born four children: Bob, Roger, Gene, and Brenda.  They lived at Camp Rucker in Alabama while Marvin was in the service.  Upon his discharge, they moved to the farm in Melville Township near Hector. 
In addition to farming, Marvin worked at Loftness Manufacturing for 20+ years.  He was an active member of the Hector United Methodist Church.  Marv's hobbies were camping, woodworking, hunting, fishing, and building train sets.
Late Thursday evening, June 18, 2015, Marv passed away at the Renville County Hospital, having reached the age of 84 years. 
Marvin is survived by his:
Wife, Dona, of Hector;
Children:  Bob Wiehr and his wife Carol of Hutchinson,   
                   Roger Wiehr and Nancy Fischer of Hector,
                   Gene Wiehr and his wife Barb of Arlington, South Dakota, and
                   Brenda Wiehr and Brian Schmidt of Hutchinson;
Grandchildren: Brent, Dawn, Paige, Tim, Kelly, Carter, Jodessa, Randy, Kelton, and Leland;
Other relatives, and friends.
Marv was preceded in death by his parents, Fred and Elsie Wiehr.