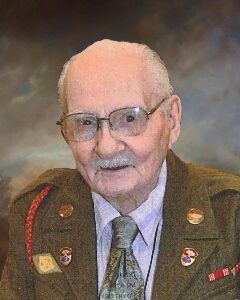 Service Information
Dr. Marvin Kahle, age 98, of Gaylord passed away January 7, 2021, at Golden Hearts Living Center in Arlington.
Mass of Christian Burial will be Saturday, January 16, 2021, 11:00 A.M. at St. Michael's Catholic Church in Gaylord with interment in the New Ulm City Cemetery in the Veterans section in New Ulm.
Visitation will be from 10:00 A.M.-11:00 A.M. in the St. Michael Social Hall on Saturday.
Military Honors by the Manthey-Asmus American Legion Post #433.
Masks are required and social distancing guidelines will be followed.
Visitation/Gathering
St. Michael's Catholic Church
411 Court Avenue
Gaylord, MN
Service
St. Michael's Catholic Church
411 Court Avenue
Gaylord, MN
Funeral Chapel
Egesdal Funeral Home
74 Main Avenue
Gaylord, MN 55334
Phone:(507) 237-2388
Cemetery
New Ulm City Cemetery
Broadway St.
New Ulm, Brown County, MN
Obituary
Marvin Edward Kahle was born on February 8, 1922, in Belview, Minnesota. He was the son of Christian and Lillian (Maixner) Kahle. Marvin was baptized as an infant in the Catholic faith in Redwood Falls, Minnesota, and was later confirmed in his faith as a youth at the Cathedral of the Holy Trinity in New Ulm, Minnesota. He received his education in New Ulm and was a graduate of Holy Cathedral High School Class of 1940.
Marvin started playing the trumpet in New Ulm with old time band at the age of 14. He played with all the local great old-time bands, and on Channel 12 Bandwagon many times with various local bands. He joined the Gaylord Over 60 Band in 1981 at the age of 59 and continued until 1994, playing for over 59 years. He was still playing his trumpet until last summer at his house and the neighbors said he played at the oddest hours.
Marvin enlisted in the United States Army in 1941 and served during World War II. He was part of the Battle of the Bulge in Belgium and Germany. He received a Bronze Star and has two Battle Stars. Marvin received his Honorable Discharge in 1945. He was very proud of the fact that he could still wear his Army uniform.
Marvin furthered his education at Northwest College of Chiropractic in Minneapolis, graduating in February of 1951, earning his Doctoral Degree in Chiropractic care. He started his first practice in St. Peter and a few other towns until he moved to Gaylord in 1968. His office was on main street and later years part time in his home. He retired in 1992, serving the Gaylord community for 54 years.
On April 25, 1951, Marvin was united in marriage to Grace Christle at the Cathedral of the Holy Trinity in New Ulm. They were blessed with five children.
On August 9, 1997, Marvin was united to Florence Heinekce.
In 1998, with his two brothers, Fred and Roman, received the Minnesota Music Hall of Fame Award. At the museum in New Ulm, a special area is reserved for each Hall of Fame winner.
Marvin was a past member of the Cathedral of the Holy Trinity in New Ulm and a current member of St. Michael's Catholic Church in Gaylord. He was also the organist for St. Michael's Catholic Church for more than 30 years. Marvin received the New Ulm Diocese Award of Service from the Bishop of New Ulm.
Marvin was a member of the Gaylord Knights of Columbus and the Gaylord Rotary where he was the secretary for many years. He was one of few World War II Veterans still living in Sibley County.
Marvin always wore a suit which included dress pants, dress shirt, tie and jacket wherever he went; even to Walmart. As late as last year early summer, he still drove to Oak Terrace Health Care Center to play Bingo twice a week, as he called it "to entertain the old people" at the age of 97. He always took quarters as his winnings and gave them to his great grandchildren when he saw them. He gave his grandchildren and great grandchildren a $2 bill for their birthday. Marvin enjoyed crossword puzzles and reading. He could also play the banjo, violin, and organ.
Marvin is survived by his:
Children,               Patricia (Larry) Lamb of Arlington, MN,
                              Pauline (Lyle) Wittenberg of Brooklyn Park, MN,
                              Tom Kahle of Gaylord, MN, and
                              Michael (Rob) Kahle of New York City, NY;
6 Grandchildren, Krista (Billy) Santillana, Kerry (Dan) Kroells, Katharine Lamb, Rhyannon Kahle, Matthew Kahle, and Tyler  (Chassey) Wittenberg;
11 Great grandchildren, Marcus and Briana Santillana, Garrett and Morgan Kroells, Jonathan and Ryan Lamb, Jacob Frauendienst, Connor Kahle, Linkoln, Navi and Luna Wittenberg;
Daughter-in-law, Sylvia Kahle;
Many cousins and fellow musician.
Marvin was preceded in death by his Parents, Christian and Lillian Kahle; Wife, Grace in June of 1995; Wife, Florence in February of 2013; Son, David in 2019; Granddaughter, Taylor; and three Brothers.
A special thank you for the great care at Golden Hearts, especially Deb, who could make him laugh, singing old time songs and dancing with him.