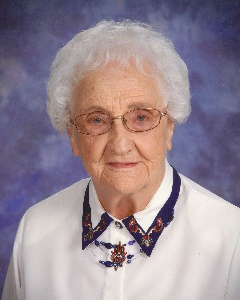 Service Information
Mary Jane Scharmer, age 98, of Olathe, Kansas, formerly of Buffalo Lake, Minnesota, passed away on Monday, May 1, 2023, in Olathe.
Memorial Service will be held Thursday, May 4, 2023, at 2:00 P.M. at College Church of the Nazarene in Olathe, Kansas, with a visitation to follow from 3:00 to 4:00 P.M.
Gathering of Family and Friends will be held on Sunday, May 7, 2023, from 2:00 to 4:00 P.M. at Hughes-Hantge Funeral Chapel in Hector, Minnesota. A private burial will follow.
Memorials are suggested to the FREE (Friends Enabling the Elderly) at the BL Healthcare Center, 703 W Yellowstone Trail, Buffalo Lake, MN 55314.
Visitation/Gathering
Hughes-Hantge Chapel
311 Main Street South
Hector, MN
Website:hughes@hantge.com
Funeral Chapel
Hughes-Hantge Funeral Chapel
311 Main Street S.
Hector, MN 55342
Phone:(320) 848-6297
Cemetery
Zion Evangelical Cemetery (Preston Lake Twp)
Renville County, Preston Lake Township
Buffalo Lake, MN
Renville
Obituary
Mary Jane Scharmer was born March 8, 1925 to Henry and Mary (Zachow) Evert in Buffalo Lake, MN.  Mary Jane grew up on a farm outside Buffalo Lake with 3 siblings, Helen, Willus and Arvilla. She graduated from High School in 1943 and worked in Minneapolis for a time. She corresponded with Clifford Scharmer while he was in the Army. When he returned home from World War II, they were married in December of 1945. They were blessed with 3 daughters, Judy (Ron) Swartzell, Jean (Keith) Schultz and Joyce (Ron) Spruill.
Mary Jane was primarily a homemaker, but was also the bookkeeper for Cliff's Plumbing and Heating business. She also enjoyed embroidery work as evidenced by the countless sets of dishtowels. She and Cliff were in a bowling league and played in several card clubs. From the age of 60 until the age of 90, she volunteered at the Buffalo Lake Healthcare Center where many of the "old folk" she cared for were younger than she was. She was involved in her church, both the Nazarene Church, and when that closed, in the Zion United Methodist Church.
She was active, going on a mission trip to Jamaica in her 70's, going on a hot air balloon ride and water skiing again in her 80's, and jet skiing in her 90's.
She is preceded in death by her parents, husband, siblings, their spouses and in-laws and their spouses. She was the last surviving family member of that generation. She moved to Olathe, KS to live with her daughter, Joyce, in October, 2018.
She is survived by her 3 daughters; Grandchildren – Heidi (Brian) Lang, Jeremy Schafer (fiancé, Melissa), Jeffrey Schultz, Rick Spruill, Cliff (Elaniea) Spruill, Liz (Blake) Mokiao and Andy (Randi) Spruill; Great-Grandchildren – Brianna (Brandon) Gorter, Lauren Evans, Alexa (Austin) Becker; Emma & Kate Schafer; Teddy Schultz; Madden Harmon and Reid Spruill; Malachi Oswald; Alakai (Kai), Kamalani & Keoni Mokiao; and Ryder, Everett & Meryn Spruill. She was anticipating the birth of her first Great-Great-Grandson in July. Over 60 nieces, nephews and spouses called her "Aunt Janie."
The family would like to thank everyone for coming to support them at this time. Mom loved the time she had at Benton House, Olathe, and we especially appreciate the loving care provided by Ascend Hospice.