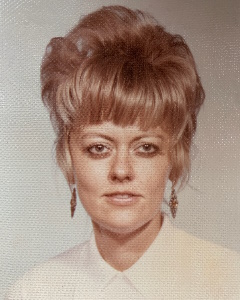 Service Information
Mary Louise Broman, age 80, of Spicer, Minnesota, formerly of Willmar, Minnesota, passed away peacefully on Tuesday, April 4, 2023.
Celebration of Life will be held on Saturday, April 8, 2023, from 11:00 A.M-1:00 P.M. at Bison Creek Event Center in Buffalo, Minnesota.
Funeral Chapel
Hughes-Hantge Funeral Chapel
311 Main Street S.
Hector, MN 55342
Phone:(320) 848-6297
Obituary
Mary Louise (Anderberg) Broman was born on September 11, 1942, in Litchfield, Minnesota. She was the daughter of Revere and Susan (Magdanz) Anderberg.
Mary Louise married Roger Broman on May 6, 1961. This marriage was blessed with two daughters, Pamela Sue (Broman) Larson and Becky Louise (Broman) Braun.
Mary deeply loved her daughters, grandchildren, great grandchildren, and extended family. Mary was a beautiful, sweet woman who loved the warm Florida sunshine, ocean, beaches, and the lakes in Minnesota. We will all fondly remember the fun times that we spent playing games, telling stories and laughing so hard that our bellies ached.
Mary is survived by her daughter Becky (Rick) Braun; grandchildren and great grandchildren; Corey (Sara) Braun, Cohen, Bennett; Zachary (Cassie) Braun, Isla, Elliot; Shanlee (Tyler) Maher, Thea; Nathan (Emily) Larson, Olivia, Jonas; Jennifer (Craig) Hanson, Atlanta, Henrik, Anders, Astrid, Freya. She is also survived by her brothers, Dale Anderberg, Steve (Linda) Anderberg and many other loved ones.
Mary is preceded in death by her daughter Pamela Sue, sister-in-law Sally Anderberg and her parents.