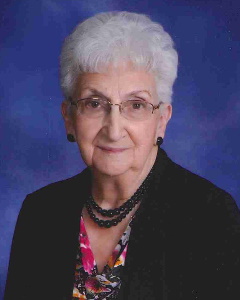 Service Information
Mary S. Berscheit, age 96, of Glencoe, Minnesota, passed away Monday, November 14, 2022, at Woodstone Senior Living in Hutchinson.
Mass of Christian Burial will be held Monday, November 21, 2022, 11:00 A.M. at Church of St. Pius X in Glencoe, with interment in Saint Bernard Catholic Cemetery in Ward Springs, Minnesota.
Gathering of Family & Friends will be held Monday, November 21, 2022, from 10:00 - 11:00 A.M., one hour prior to the service at the church.
Visitation/Gathering
Church of St. Pius X
1014 Knight Avenue
Glencoe, MN
Service
Church of St. Pius X
1014 Knight Avenue
Glencoe, MN
Funeral Chapel
Johnson-McBride Funeral Chapel
1222 Hennepin Avenue
Glencoe, MN 55336
Phone:(320) 864-3737
Obituary
Mary Susie Berscheit was born on July 24, 1926, in Cumberland, Wisconsin. She was the daughter of Nick and Jennie (Donatell) Zappa. Mary was baptized as an infant and was later confirmed in her faith, both at St. Anthony Catholic Church in Cumberland. Education was very important to Mary. She only went to 8 years of school and then had to stay home and help on the farm. She did get her GED later and moved to Minneapolis where she worked at Warner Hardware. The guy who lived in her apartment building worked for the Minnesota Twins and he would get her and her roommates tickets to see them play. Bob Allison and Harmon Killebrew were popular players at the time.
Mary was united in marriage to Richard Berscheit on October 18, 1952. The couple made their home in Ward Springs, Minnesota.  They were blessed with four children, Sharon, Greg, Debbie, and Kenny.
Mary loved to garden and spent most of her summer tending her garden and preserving vegetables and fruit for the winter. Mary sang in the St. Bernard's church choir, was active in the ladies' society, and was Clerk for the Birchdale Township Board. Richard passed away in 1981. After the children had left the nest, she moved to Glencoe in 1983. Her first job was as a waitress at Lindy's Café. She then worked for Snyder Drug until the age of 82.
Mary enjoyed knitting and crocheting but her passion was sewing crafts and quilts.  Each child and grandchild received quilts and the great-grandchildren were all given baby blankets. Mary enjoyed taking bus trips with her friends and was always up for an adventure.  Each Sunday, you would find her and her friends dancing at PlaMor Ballroom or wherever there was a dance.  She said that dancing kept her in shape.
Mary was diagnosed with Chronic Lymphocytic Leukemia (CLL) in 2010.  After the removal of her enlarged spleen, her numbers stabilized and she never had to have chemo or receive any cancer drugs.  Her cancer doctor discharged her in March of 2022 as no treatment/monitoring was necessary.
Mary passed away on Monday, November 14, 2022, at Woodstone Senior Living in Hutchinson, Minnesota, at the age of 96 years.
Blessed be her memory.
Mary is survived by:
Children, Sharon (Dean) Sabacky, Debbie (Ron) Donnay, and Ken Berscheit; 
Grandchildren, Jennifer Reiter, Scott Kittridge, Brian Donnay, Lisa Bosley, Laura Lindeman, Kristin Berscheit, Amy Eastling, Teresa Nelson, and Brandon Nelson;
22 Great-grandchildren;
Sister-in-law, Mary Zappa;
Many nieces and nephews.
Mary was preceded in death by Richard Berscheit; son, Gregory Berscheit and infant grandchild;  parents, Nick and Jennie Zappa and Lawrence and Emma Berscheit; sister & husband, Eleanor & Albert DeGideo; brother & wife, Fred and Carrie Zappa, brother, Tony Zappa; in-laws, Bernice & Don Hoffman, Helen & Lee Barthel, Ernie & Virginia Berscheit, Joseph & Fran Berscheit, Genevieve & Al  Schlagheck, Eugene, Jerome, Walter, and MaryJo Berscheit.