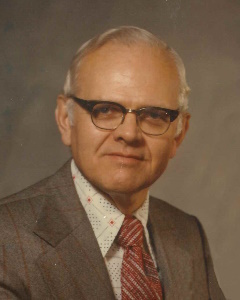 Service Information
Merle E. Elrod, age 94, of Hutchinson, Minnesota, passed away on Saturday, February 25, 2023, at Johanna Shores in Arden Hills, Minnesota.
Funeral Service will be held on Saturday, March 18, 2023, at 11:00 A.M. at Faith Presbyterian Church in Silver Lake, with spring interment in Hillside Cemetery in Minneapolis, Minnesota.
Visitation will be held on Friday, March 17, 2023, from 5:00 P.M. to 8:00 P.M. at Dobratz-Hantge Funeral Chapel in Hutchinson, and will continue one hour prior to the service at Faith Presbyterian Church.
Visitation/Gathering
Dobratz-Hantge Chapel
899 Highway 15 South
Hutchinson, MN
Website:hantge.com
Service
Faith Presbyterian Church - formerly Czech Brethren
108 W Main Street
Silver Lake, MN
Funeral Chapel
Dobratz-Hantge Funeral Chapel
899 Highway 15 South
Hutchinson, MN 55350
Phone:(320) 587-2128
Cemetery
Hillside Cemetery
2600 19th Avenue NE
Minneapolis, MN
Obituary
Merle was born on September 5, 1928, in Sioux City, Iowa to the Rev. James and Eulala Ferne (Tarrence) Elrod. Merle was baptized as an infant and confirmed in his faith as a youth. He grew up with his loving family in various communities in Iowa, Nebraska and Minnesota until settling in NE Minneapolis where he graduated from Edison High School in 1946. During his time at Edison, he met his future bride, Norma. He completed his undergraduate education at the University of Minnesota in 1950 and then earned his Master of Divinity degree from Princeton Theological Seminary in Princeton, NJ in 1953. He was ordained into the Ministry of Word and Sacrament on June 29, 1953 at Randolph Heights Presbyterian Church in St. Paul Presbytery.
On January 1, 1953, Merle was united in marriage to Norma LaDonna Bolin at Randolph Heights. This marriage was blessed with five children: Alisa (Leon) Hurevitch, Ian Bruce Elrod, Leah Darice Elrod, Linnea Karin Elrod and Marijke Jo (Kerry) Carson. Further blessing their lives were 3 grandchildren, Brent Hurevitch, Leigh and Drew Carson and great-granddaughter, Kayla Hurevitch. He and Norma were proud parents always encouraging and supporting their children's development and accomplishments. They also opened their home to a foster son and to three foreign exchange students.
Merle and Norma resided and ministered in many wonderful communities in the Midwest, including Lawton and Ida Grove, IA, Cedar Bluffs and Omaha, NE, Mankato and Rushmore, MN and Forest Larger Parish in WI (including communities of Laona, Wabeno and Lakewood). After retiring in 1993, they made their home in Hutchinson, MN and enjoyed many happy years together there. They were active in the Hutchinson community and Bethlehem United Methodist Church of Hutchinson. They shared 63 years of marriage until Norma passed away on August 24, 2017.
Merle was active in ministry in The Presbyterian Church (USA) for 40 years and graciously continued to serve the church after retirement. He also enjoyed being part of the Crow River Men's Chorus, Men's Prayer Breakfast group, Habitat for Humanity, Common Cup and many other volunteer organizations throughout his retirement. Merle loved spending time with family, grandchildren and friends. Special memories were made fishing, camping, deer hunting up north, gardening, making and reupholstering furniture, lapidary, singing, slide photography shows, WW II history, sending hand-written notes and post cards, a good laugh, being Santa Claus for his grandchildren, eating giant bowls of cereal and savoring anything peanut butter.
Merle's family would like to express their appreciation to the many wonderful caregivers who supported Merle in his last few years: Guardian Home Health, Harmony River and Johanna Shores - Presbyterian Homes, and Life Spark Hospice.
Merle was preceded in death by his wife Norma, and by siblings Ralph Elrod (Jenny), Gwendolyn Elrod Carlson (Donald), Jim Dwight Elrod (Barbara), Calvin Elrod (Edith), Everette Elrod (Gail). The family invites all to come celebrate and remember Merle's life at his services and at a luncheon following the funeral. Memorials may be directed to Habitat for Humanity or Bethlehem United Methodist Church.