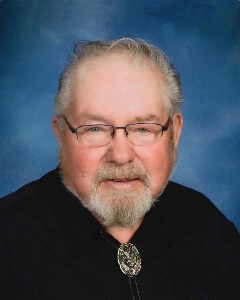 Service Information
Merlin O. Nygaard, age 81, of Hutchinson, Minnesota, passed away peacefully on Thursday, July 27, 2023, at his home in Hutchinson.
Funeral Service will be held Monday, August 7, 2023, at 11:00 A.M. at Our Savior's Lutheran Church in Hutchinson with interment in Oakland Cemetery.
Visitation will be held Sunday, August 6, 2023, from 4:00-7:00 P.M. at Dobratz-Hantge Funeral Chapel in Hutchinson, and will continue one hour prior to the service at the church.
Visitation/Gathering
Dobratz-Hantge Chapel
899 Highway 15 South
Hutchinson, MN
Website:hantge.com
Service
Our Savior's Lutheran Church
800 Bluff Street NE
Hutchinson, MN
Funeral Chapel
Dobratz-Hantge Funeral Chapel
899 Highway 15 South
Hutchinson, MN 55350
Phone:(320) 587-2128
Cemetery
Oakland Cemetery
805 Hwy 15 South
Hutchinson, MN
Obituary
Merlin Orrin Nygaard was born on February 20, 1942, in Colfax, Wisconsin. He was the son of Odin and Lucille (Jones) Nygaard. Merlin was baptized as an infant and later confirmed in his faith at North Crow River Lutheran Church in Knapp, rural Cokato, Minnesota. He grew up on a farm in Colfax and attended country school until moving to Cokato in 1956, where he helped his dad on a dairy farm.
On July 1, 1961, Merlin was united in marriage to LuAnne Mae Zajicek at North Crow River Lutheran Church in Cokato. This marriage was blessed with three children, Jeff, Todd and Jackie. Merlin and LuAnne made their home on the farm in rural Hutchinson, Minnesota. They shared 62 years of marriage.
Merlin was involved with many jobs throughout his life including a milk truck driver, owning a fertilizing business, Good Year Tire repair man, dairy farmer, construction worker, and manufacturer at 3M. His working career ended with owning and operating Nygaard Excavating. He will always be remembered as a hard worker and fair businessman. Merlin was a member of Our Savior's Lutheran Church in Hutchinson. He was also an active member of the Cedar Mills Lions Club. In his years with the Lions Club, Merlin spent many hours visiting with people regarding mental health and suicide prevention in honor of his son, Todd. He was very proud to receive the distinguished "Melvin Jones Fellow Award" and the "Helen Keller Sight Award" for his service with the Lions.
Merlin made many memories with family and friends at their cabin in Richmond, Minnesota. He loved the outdoors whether it be fishing, spending time at the Horseshoe Chain of Lakes, deer hunting and snowmobiling with his family, or watching the wild life from the house overlooking the pond that he dug. Merlin and LuAnne would often be found playing cards, as they were both in a card club for more than 30 years, or watching the Minnesota Vikings. He also enjoyed collecting antique tractors, going to auctions and threshing shows. Merlin especially treasured time spent with his children and grandchildren and always had time for a game of Buck Euchre.
Merlin passed away peacefully on Thursday, July 27, 2023, at his home in Hutchinson, at the age of 81 years.
Blessed be his memory.
Merlin is survived by his:
Wife, LuAnne Nygaard of Hutchinson, MN;
Children, Jeff Nygaard of Hutchinson, MN, and his special friend, Connie,
Jackie Burns and her husband, Curt of Stewart, MN;
Grandchildren, McKale Nygaard and his significant other, Nicole, McCoy Nygaard, Emily, Andrew and Matthew Burns;
Brother, Ken Nygaard and his wife, Donna of Lindsay, OK;
Brother-in-law, Bernard Zajicek and his wife, Joyce of Silver Lake, MN;
Sister-in-law, Carol Nygaard of Glencoe, MN;
Many nephews, nieces, other relatives and friends.
Merlin is preceded in death by his Parents, Odin and Lucille Nygaard; Son, Todd Nygaard; Brother, Wally Nygaard; Sisters, Joyce (Gary) Gustafson, Jane Nygaard; Sister-in-law, Dorothy (Don) Ulness; Niece, Jonie Nygaard; Son-in-law, Jason Steffensen;