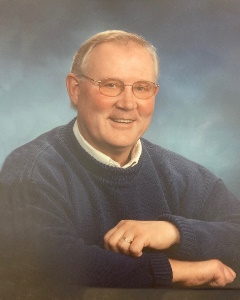 Service Information
Michael J. Butler, age 77, of Lake Erie, Ellsworth Township, Minnesota, passed away on Saturday, April 15, 2023, at Hutchinson Health in Hutchinson.
Memorial Service will be held on Friday, April 21, 2023, at 3:00 P.M. at Dobratz-Hantge Funeral Chapel in Hutchinson.
Gathering of Family and Friends will be held one hour prior to the service at the funeral chapel.
Military Honors by Hutchinson Memorial Rifle Squad.
Visitation/Gathering
Dobratz-Hantge Chapel
899 Highway 15 South
Hutchinson, MN
Website:hantge.com
Service
Dobratz-Hantge Chapel
899 Highway 15 South
Hutchinson, MN
Website:hantge.com
Funeral Chapel
Dobratz-Hantge Funeral Chapel
899 Highway 15 South
Hutchinson, MN 55350
Phone:(320) 587-2128
Obituary
Michael James Butler was born on November 25, 1945, in Willmar, Minnesota. He was the only child born to James and Vivian (Magnuson) Butler. He graduated from Willmar High School in 1963. During Mike's school years, he participated in football, little league baseball, and church league basketball. His most memorable moment in sports was the football game where he scored four touchdowns and four extra points, which gave him the most points in his conference.
Mike enlisted in the United States Marines Corps on August 15, 1966, in Minneapolis, Minnesota, and completed Basic Training at Camp Pendleton. He was proud of his service to his country. Mike was honorably discharged on August 3, 1972, at Camp Pendleton, California.
Mike met the love of his life, Paula Lindquist, in high school at the age of 15. On June 13, 1964, they were united in marriage on Eagle Lake at Paula's parents' home. This marriage was blessed with five children, Michele, Todd, Allison, Matthew, and Jamie. Mike and Paula resided north of Hutchinson, Minnesota, on Lake Erie, for the past 50 years. They shared 58 years of marriage.
Mike mastered the skill of meat cutting and began his career with Paula's dad, Milner, in Willmar. He continued his career at various grocery stores in Hutchinson including Red Owl, Warehouse Grocery, and SuperValu until he joined the union at Rainbow Foods. Mike worked at several locations in the Twin Cities area for many years until he retired. Post retirement, he continued to work part time at Cash Wise in Hutchinson. He enjoyed his co-workers and was known for bringing laughter to the workplace with his humorous antics. Mike also enjoyed serving the people in his hometown, he was a hard worker, and did a great job as a provider for his family.
Mike loved spending time with family and friends out at the lake. They viewed their spot on the lake as a little piece of heaven. He also developed a circle of neighbors that offered support and friendship. Mike was proud of his children and grandchildren and spent time attending and watching their sporting events and activities. Some of his favorite memories revolve around hunting and fishing with his sons, grandsons, "outlaws", and closest friends. The stories are endless.
Mike passed away peacefully on April 15, 2023, surrounded by his loving family at Hutchinson Health in Hutchinson.
Blessed be his memory.
Mike is survived by his:
Wife, Paula Butler of Darwin, MN;
Children, Michele "Missy" Butler and her significant other, Dale Hanson of Sun City, AZ,
Todd Butler of New Braunfels, TX,
Allison Heilman and her husband, Dustin of Hutchinson, MN,
Matthew Butler and his wife, Deb of Waconia, MN;
Grandchildren, Sam Hanson (Nicole), Morgan Butler-Fluth (Matthew Gruenenwold), Josie Butler-Fluth, Justine Heilman, Jillian Heilman, Lydia Heilman, Lukas Heilman, Brody Butler, Ben Butler, Oliver Butler;
Great-grandchildren, Holly Hanson and Kevin Boyd Fluth Jr.;
Many other relatives and friends.
Mike was preceded in death by his Infant Son, Jamie Butler; Parents, James and Vivian Butler; Father and Mother-in-law, Milner and Phyllis Lindquist; Son-in-law, Kevin Fluth; Father of son-in-law Dustin, Douglas Heilman.