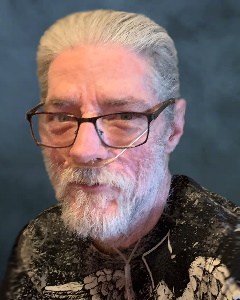 Service Information
Michael "Mike" P. Hutchins, age 56, of Glencoe, Minnesota, passed away Monday, August 29, 2022, at his home in Glencoe.
Celebration of Life will be held at a later date.
Funeral Chapel
Johnson-McBride Funeral Chapel
1222 Hennepin Avenue
Glencoe, MN 55336
Phone:(320) 864-3737
Obituary
Michael "Mike" Patrick Hutchins Sr. was born on October 21, 1965, to Roy and Sharon (Rodewald) Hutchins. Mike was raised in Minneapolis, MN, and received his education there through high school. After high school, Mike graduated from Vera Slater Beauty School and became a certified Cosmetologist.
On May 23, 1992, Mike was united in marriage to Kristin Kadlac in Brooklyn Park, MN. The couple made their home in uptown Minneapolis, MN, and resided within the Twin Cities for a few years before moving to New Richmond, MN, and opening their first beauty salon together. They continued to own and operate their beauty shop in various locations including the Twin Cities, Hutchinson, and Glencoe for nearly 10 years. The couple enjoyed spending time together horseback riding. Mike and Kristin owned a retired racehorse for a short time. Six children, Miles, Tanica, China, Michael Jr., Caliesto, and Race made the Hutchins family complete. The couple shared 15 years of marriage until Kristin passed away on December 29, 2007.

Mike enjoyed playing tennis, as well as throwing knives, watching movies, and watching UFC fighting. He loved teaching his kids how to play tennis. Mike truly cherished the title "Grandpa" and spent all the time he could with his grandchildren.
Mike passed away on August 29, 2022, at the age of 56 at his home in Glencoe. Blessed be his memory.
Mike is survived by his;
Children, Miles Hutchins, Tanica Hutchins, China Hutchins, Michael Hutchins Jr., Caliesto Hutchins, and Race Hutchins;
Grandchildren, Schevy Shoen, Dean Pena III, Naszhara Hutchins, Aras Hutchins, Zakarah Tholke, and Aurora Hutchins;
Siblings, Robert Hutchins, Casey Hutchins, Laurie Buscher, and Sharrie Thornton;
Other Relatives and Friends.
Mike was preceded in death by his parents, Roy Hutchins and Sharon Rodewald; wife, Kristin Hutchins.