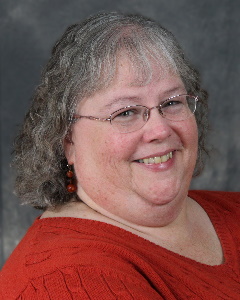 Service Information
Michelle Louise Reinert, age 62, of Glencoe, Minnesota, passed away Wednesday, March 2nd, 2022, at Regions Hospital in St. Paul, Minnesota.
Celebration of Life will be held Saturday, June 18, 2022, at 1:00 P.M., at Oak Leaf Park, Shelter #1.  
Funeral Chapel
Johnson-McBride Funeral Chapel
1222 Hennepin Avenue
Glencoe, MN 55336
Phone:(320) 864-3737
Obituary
Michelle Reinert was born on June 18, 1959, in Chisago City, Minnesota, the daughter of Edward "Jerry" Reinert and Florence (Davidson) Reinert. Michelle was baptized as an infant into the Christian faith and later confirmed in her faith as a youth. She graduated from Glencoe High School in 1977.
Michelle was blessed with a son, Brandon Reinert in 1985. Michelle and Brandon mainly lived in Glencoe. Beginning with Michelle's mother until the spring of 1995 when they moved into their own home in Glencoe.
Michelle's work-life mostly involved customer service and data entry for various companies, with the most recent being Medallion Cabinetry in Waconia, Minnesota. She loved sharing her knowledge with others and was asked to train many people through the years. She made great friends at Medallion Cabinetry with both co-workers and the clients she served. So much so, that even after her retirement she kept in close contact with her clients and co-workers alike. She provided the highest quality customer service to everyone she touched.
Michelle was also a member of Good Shepherd Lutheran Church in Glencoe for many years and had many friends there. She enjoyed serving her church family in the ways she could, but most often by cooking for youth events until she could no longer do so. The meals she made were always appreciated and she received many, many compliments from all who enjoyed her cooking.
Michelle loved cooking and especially for others! She took great delight in sharing her God-given culinary talent with family, friends, church family, work family, and Brandon's friends. Her dishes were always a treat and truly her own creation!
Michelle was preceded in death by her father, mother, her brother Kenny and brother-in-law Larry Quanrud.
Michelle is survived by her son, Brandon, and his partner Jesse who was like a son to her, as well as Jesse's daughter Philomena who Michelle considered and treated as her granddaughter. Michelle is also survived by brothers and sisters, Jeffrey Reinert and wife Frances, Audrey Quanrud, Scott Reinert and wife Brenda, Mari Grack, and husband Arnold. As well as many nieces and nephews and a great-niece Gracelynn.
Michelle's hearty laugh, kind heart, loving spirit, and fabulous cooking will be greatly missed! May she rest in peace.
A celebration of life is currently being planned for June 18, 2022. Details will be announced closer to that time.