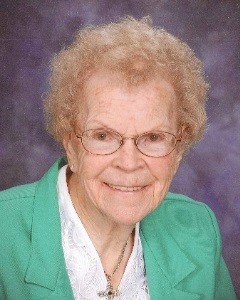 Service Information
Mildred Werner, age 92, of Buffalo Lake, passed away Sunday, June 21, 2015, at the Buffalo Lake Healthcare Center.
Funeral Service will be Wednesday, June 24, 2015, at 11:00 A.M. at the Zion United Methodist Church in Buffalo Lake, with interment in the church cemetery.
Visitation will begin Wednesday at 9:00 a.m. and continue for two hours prior to the service at the church.
Visitation/Gathering
Zion United Methodist Church
306 NW 2nd Street
Buffalo Lake, MN
Service
Zion United Methodist Church
306 NW 2nd Street
Buffalo Lake, MN
Funeral Chapel
Hughes-Hantge Funeral Chapel
311 Main Street S.
Hector, MN 55342
Phone:(320) 848-6297
Cemetery
Zion Evangelical Cemetery (Preston Lake Twp)
Renville County, Preston Lake Township
Buffalo Lake, MN
Renville
Obituary
Mildred Delores Werner was born April 1, 1923, in Fargo, North Dakota, the daughter of Henry and Anna (Danielson) Johnson.  She was baptized as an infant, and confirmed in her faith as a youth.  When Mildred was seven years old, she moved with her family to Becker, Minnesota.  She graduated from the Becker High School with the Class of 1940.
On April 4, 1943, Mildred was united in marriage to Floyd Werner at the Evangelical Church in Buffalo Lake.  The couple made their home in rural Buffalo Lake, and later moved into town.  Their marriage was blessed with three sons, Michael, Thomas, and Charles.  They farmed for many years.  Mildred and Floyd shared nearly 58 years of marriage when Floyd passed away on April 1, 2001.  Mildred continued to live in their home in Buffalo Lake, spending the last two years at the Buffalo Lake Healthcare Center.
Millie, as she was known to her family and friends, worked as a teller in the Buffalo Lake Bank.  She had also worked at Eiselein's Store and the Buffalo Lake Creamery.  Millie had served as a 4-H Leader.  She was a member of the Zion United Methodist Church, and was active with the U.M.W.  Her strong political views were Republican, and she often worked at the Republican booths during the county fairs.  Millie was a volunteer at heart, and worked with the Red Cross Bloodmobile, and at the Buffalo Lake Healthcare Center.  She was named a WCCO Good Neighbor, and received the honor of Outstanding Citizen of Buffalo Lake. 
Millie loved nature, and enjoyed gardening, flowers, and watching and feeding the birds.  She was an avid bowler and went to many bowling tournaments with her team of ladies.  She also belonged to the quilting group at church.  Millie enjoyed spending time with her brother-in-law, Kenneth, as well as visiting with friends.  She dearly loved her family and enjoyed giving those $2 bills for special occasions or visits, as well as hearing about their activities and adventures. 
Late Sunday evening, June 21, 2015, Mildred passed away at the Buffalo Lake Healthcare Center, having reached the age of 92 years.  Blessed be her memory.
Mildred is survived by her:
Sons:     Mike Werner and his wife Joann of Waconia, Minnesota,
               Tom Werner and his wife Yvonne of Globe, Arizona, and
               Chuck Werner and his wife Natalie of Hector, Minnesota;
Grandchildren:  Shauna (Dave) Frohrip, Andy (Jody) Werner, Kimberly Werner, Desiree Werner, Jeffrey Werner, Wendy Sanchez, Remington Werner, and Austin Werner;
Great-Grandchildren:  Brandon Werner, Angelica Werner, Eric Werner, Anaya Werner, Nicholas Werner, Fabian Werner, Emily Frohrip, Katelyn Frohrip, Hailey Werner, Addison Werner, Angelo Sanchez, Christopher Sanchez, Reve Sanchez;
Great-Great-Grandchildren:  Anthony Werner and Jordan Werner;
Brother-in-law, Kenneth Moritz of Buffalo Lake;
Other relatives, and friends.
Mildred was preceded in death by her Parents, Siblings in infancy, Husband Floyd, Brothers: Oscar Johnson and wife Elsie, Woodrow Johnson and wife Harriet, Clifford Johnson and wife Helen, Loren Johnson and wife Mary, Edmund Johnson and wife Florence; Sisters: Phyllis Moritz, Ruth Finley and husband Tex, and Elizabeth Lutes and husband Bob; and by her Sister-in-law Norma Ulrich and husband Lyn.