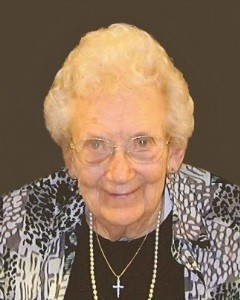 Service Information
Mildred "Millie" Johnson, age 99, of Hector, passed away Friday, February 6, 2015, at the Renville County Hospital.
Funeral Service will be Thursday, February 12, 2015, at 11:00 A.M. at First Lutheran Church in Hector, with interment in the Hector City Cemetery.
Visitation will be held Thursday for two hours prior to the service at the church.
Memorials requested to First Lutheran Church.
Visitation/Gathering
First Evangelical Lutheran Church
220 5th Street West
Hector, MN
Service
First Evangelical Lutheran Church
220 5th Street West
Hector, MN
Funeral Chapel
Hughes-Hantge Funeral Chapel
311 Main Street S.
Hector, MN 55342
Phone:(320) 848-6297
Cemetery
Hector City Cemetery
Renville County, Hector Township, Section 32
Hector, MN
Obituary
     Mildred E. Johnson was born February 4, 1916, in Martinsburg Township, Renville County, Minnesota, the daughter of Henning and Minnie (Johnson) Fredrickson.  She was baptized on March 26, 1916 and confirmed on June 22, 1930 at First Lutheran Church. Millie grew up in Martinsburg Township and graduated with the Class of 1933 from Hector High School. She continued her education at Miss Wood's Teacher Prep College in St. Paul.  After graduation her first teaching position was in Echo, MN.  From there she taught nursery school in San Diego, CA and kindergarten in Bloomington and Hector, MN.  Before her retirement in the late 1970s, she had been teaching kindergarten for many years in Bird Island.  She was a natural loving teacher who touched many lives during her career.
     On October 6, 1945, Millie was united in marriage to Harley Johnson at her parents' home in rural Hector.  Harley and Millie made their home in Hector where they raised three daughters; Nancy, Linda Joy, and Vickie Jean.  They shared 54 years of marriage before Harley passed away on February 8, 2000.  Millie continued living in her home until moving into Prairie View.  She was an active member of First Lutheran Church in Hector all of her life. She sang in the choir and was the Junior Choir director, as well as a Sunday School teacher. She served on the library and memorial committee and most recently was a member of the Mary Martha Circle. She loved reading her Bible and singing or listening to hymns whenever she could.
    Millie enjoyed traveling to Florida to visit Linda Joy and Vickie Jean and their families.  She grew bountiful and beautiful gardens and enjoyed being outside and taking long walks. In the winter she was either crocheting, baking, or reading. Millie loved entertaining her friends and family and was a gracious hostess, always ready to put on the coffee pot and offer a sweet homemade treat.   During the warmer times of the year while she was at Prairie View you could find her outside walking or sitting on her green bench under the tree listening to the birds or her transistor radio. During the winter she was an avid "reader" of Books on Tape from the State Services for the Blind Library.  Her limited eyesight did not deter her from the things she loved to do.
    In the early morning hours on Friday, February 6, 2015, Millie passed away at the Renville County Hospital, having reached the age of 99 years and 2 days.  Blessed be her memory.
      Millie is survived by her daughters:  Nancy Peterka and her husband Richard of Apple Valley, Minnesota, Linda Joy Singleton and her husband Hosea of Sarasota, Florida, and Vickie Jean Precht and her husband Jack of Crestview, Florida; grandchildren:  Michelle (Brian) Kohlweiss, Christine (Britton) Moore, Manuel Singleton, Elena (Dain) Cox, and Carley (Eric) Moroge; great-grandchildren: Harley, Evan, Josephine, Charlie, Emma and Dalton; nieces, nephews, other relatives, and countless wonderful friends.
     Millie was preceded in death by her parents, husband Harley, three sisters, and one brother.