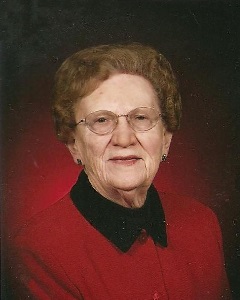 Service Information
Mildred Johnson, age 98, of Gaylord passed away Saturday, June 25, 2022, at Bayside Manor in Gaylord.
Funeral Service will be Friday, July 8, 2022, 11:00 A.M. at Norwegian Grove Lutheran Church in Sibley Township, Sibley County, Minnesota, with interment in the church cemetery.
Visitation will be from 9:30 A.M. until the service at the church on Friday.
Visitation/Gathering
Norwegian Grove Lutheran Church
33879 State Hwy 22
Sibley Township, MN
Sibley
Service
Norwegian Grove Lutheran Church
33879 State Hwy 22
Sibley Township, MN
Sibley
Funeral Chapel
Egesdal Funeral Home
74 Main Avenue
Gaylord, MN 55334
Phone:(507) 237-2388
Cemetery
Norwegian Grove Cemetery (Rural Gaylord)
33879 State Hwy #22, Gaylord, Sibley Twp, Sibley County
Sibley Township, MN
Sibley
Obituary
Mildred Elizabeth (Tollefson) Johnson was born on October 17, 1923, to Helmer and Margaret (Goodman) Tollefson on the home farm in Sibley Township. She was baptized at her home by Reverend Strand of the Norwegian Grove Lutheran Church. She was later confirmed by Reverend M.E. Tweit, together with the Norseland church. She has been a life-long member of the Norwegian Grove Lutheran Church.
Mildred graduated from 8th grade, District 47, and Gaylord High School in 1941. She attended the American Business College in Minneapolis, where she graduated in 1942. Following she worked at the Citizens State Bank in Gaylord for two years before moving to Foley.
On September 15, 1944, she was united in marriage to Karl S. Johnson, Jr. of St. Peter, Minnesota, by Reverend Tweit.  Following their marriage they lived in Foley for two years, before moving back to the home farm. This union was blessed with three children, Diane, Richard and Eileen.
Mildred was a loving homemaker and mother. She served as a 4-H leader, held all offices for the Ladies Aid and worked for Citizens State Bank until her retirement in 1991. During retirement she enjoyed going for coffee, fishing, volunteering at the historical society and making recycled cards for the auxiliary. She also loved to travel, play cards and read.
Blessed be her memory.
Mildred is survived by her:
Children,         Diane Laabs of Gaylord, MN,
                        Eileen "Lei" Amorim of Gaylord, MN, and
                        Richard Johnson and his wife, Eve of Reno, NV;
Nine grandchildren, Brian (Jill) Laabs, Gary (Kerre) Laabs, Brenda Walker and friend, Tim Milbrandt, Michelle (Scott) Christy, Richard (Melissa) Johnson, Ryan (Julia) Johnson, Christopher Amorim, Scott (Melissa) Amorim and Claudia (Adam) Roesler;
15 Great-grandchildren;
Sisters-in-law, Mozelle (Lolly) Kleifgen of Benson, AZ, and Margaret Wenner of St. Peter, MN;
Nieces, nephews, other relatives and friends.
Mildred was preceded in death by her Parents, Helmer and Margaret Tollefson; Husband, Karl Johnson; Brother, Clifford Tollefson and his wife, Marion; Great-grandchild, Jacob Walker; Son-in-law, David Laabs; Sister-in-law, Mavis Jewison; Brothers-in-law, Elmer Kleifgen, Bruce Jewison and Merton Wenner.