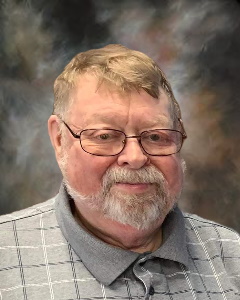 Service Information
Milford L. Houck, age 80, of Cosmos, Minnesota, passed away on Friday, January 13, 2023, at Mayo Clinic Hospital in Rochester, Minnesota.
Memorial Service will be held on Saturday, March 4, 2023, at 11:00 A.M. at Peace Lutheran Church in Cosmos, Minnesota, with interment at a later date.
Gathering of Family and Friends will be held one hour prior to the service at the church.
Visitation/Gathering
Peace Lutheran Church
140 Saturn Street N
Cosmos, MN
Service
Peace Lutheran Church
140 Saturn Street N
Cosmos, MN
Funeral Chapel
Hughes-Hantge Funeral Chapel
311 Main Street S.
Hector, MN 55342
Phone:(320) 848-6297
Obituary
Milford Lawrence Houck was born on March 19, 1942 in Litchfield, Minnesota. He was the son of Milford L. Houck Sr. and Ardena W. (Heller) Houck. Milford and his family lived about one mile north of Hector, MN on Highway 4. Later his mother and father moved to Strout, Greenleaf Township, Meeker County, Minnesota. Milford was baptized as an infant on April 19, 1942 at Peace Lutheran Church in Cosmos, Minnesota. His sponsors were Orville Elling, and Irvin and Esther Heller. He was later confirmed in his faith as a youth at United Methodist Church in Cosmos.
On November 22, 1969, Milford was united into marriage to Pauline Fredrick. Together they had two sons, Wesley and Gregory. Milford was divorced and remarried Alice Doering on May 11, 1982. This marriage was blessed with two daughters, Rebecca and Roselyn. He then met special friend, Isabell Sjogren in 1989. They made their home in Cosmos in May of 1990, and had one daughter, Analiv Astoria.
Over the years Milford had several jobs including Jennie-O Turkey Store in Litchfield, Tonka Toys in the Twin Cities, and Mammoth where he made commercial products for HVAC systems in several malls including Ridgedale Center in Minnetonka, Minnesota. Milford also ran a small lawn mowing and snow blowing service.
Milford is survived by his:
Special Friend, Isabell Sjogren of Cosmos, MN;
Sons, Wesley Houck of Benson, MN,
Gregory Houck of Cosmos, MN;
Daughters Jolene Bulman of Clara City, MN,
Rebecca Houck (Jaime Dresser) of Willmar, MN,
Roselyn Houck (Richard Lennes) of Alexandria, MN,
Analiv McCarthy (Blair) of Willmar, MN;
Two brothers Duane Houck (Penny) of Breezypoint, MN,
Dale Houck of Colfax, IA.
Grandchildren, Gabriel Galvan, Calla, Cadence Hildahl, Gwenavier, Gemma McCarthy, Cora Dresser;
Family Friend, Randall Rokala of Cosmos, MN;
Several nieces and nephews.
Milford is proceeded in death by his Parents, Milford and Ardena Houck; Brothers, Allen Houck and Gary Houck; First Wife, Pauline (Fredrick) Houck.