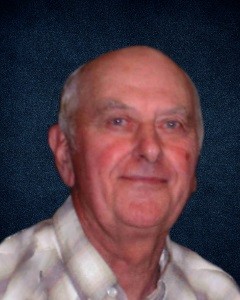 Service Information
Myron Piker, age 85, of Hutchinson, passed away Wednesday, April 5, 2017, at The Mayo Clinic Hospital, St. Mary's Campus in Rochester.   
Funeral Services will be held Thursday, April 13, 2017, at 11:00 A.M. at CrossPoint Church in Hutchinson with interment in the Oakland Cemetery. 
Visitation will be held one hour prior to the service at the church on Thursday.  
Military Honors by the Hutchinson Memorial Rifle Squad.
Visitation/Gathering
CrossPoint Church
1215 Roberts Road SW
Hutchinson, MN
Service
CrossPoint Church
1215 Roberts Road SW
Hutchinson, MN
Funeral Chapel
Dobratz-Hantge Funeral Chapel
899 Highway 15 South
Hutchinson, MN 55350
Phone:(320) 587-2128
Cemetery
Oakland Cemetery
805 Hwy 15 South
Hutchinson, MN
Obituary
Was born on May 7, 1931 in Hutchinson, Minnesota and grew up on the old family farm place with his dad, Edward, and his mother, Albina "Albie" Makovsky Piker. Prior to his birth Myron would have had a brother, Leonard, whom died at the age of 2 years old. As a longtime resident of Hutchinson, Myron graduated from Hutchinson High School in 1951 and then was inducted into the Army where he was involved with the Korean War effort and was Private First Class (PFC) E3 upon his discharge. He met Yvonne Marie Malloy at the 50th Annual Hutchinson Water Carnival in June of 1955 in front of the old Penney's department store and they married on June 2, 1956 at Penn Avenue Lutheran Church in Minneapolis, Minnesota.  They honeymooned in Yellowstone National Park. They lived in a mobile home on the farm which became over crowded with son, Daniel, then daughter, Elloa, and built a basement home when Babette came along on one acre of the old family farm place. Myron worked at 3M, for 10 years and then moved to California. They lived for a few months with Yvonne's parents in Sun Valley, California, and then moved to - an apartment in Pacoima, California. Finally they bought a home in La Tuna Canyon in Sun Valley, California.
He was involved  in Cub  Scouts  and Boy Scouts  and an assistant  to Yvonne  with Girl Scouts  and Pioneer  Girls at the local Church,  First Baptist Church of La Tuna Canyon. He was also a member of the VFW and American Legion in Hutchinson, MN.  During summer vacations they traveled to Minnesota and Colorado and also visited all the California sights. He was employed at Lockheed in Burbank, California for 30 years as a Plant Protection Officer and Weigh Master.  After  10  years  living  in  Sun  Valley  we  moved  to  La Crescenta, California  ("the  Balcony  of  Southern California").  We were active in the First Baptist Church La Crescenta in Bible studies, and also opened up our cabin at Hume Lake, California to those that wanted to come up.  At Hume Lake he volunteered to open the first "Tool Booth for Men" for the Hume Lake Christian Camps at their annual Country Fair.  He also assisted Hume Lake in other assistance.   At Hume Lake he cross country skied, searched for old bottles and junk treasures in the dump, hiked the mountains, later road an ATV all over there and chased the bears.
After 2 severe earthquakes it was time to get back to Minnesota.  While visiting Myron's mom, in 1994, she fell and fractured her hip which required surgery, so Myron who was retired stayed behind to help his mom and Yvonne returned to California  to finish getting their house sold and pack up to move.  Myron came back to California and that following summer in August of 1995 we left California to move back to Minnesota on a very hot day.
He & Yvonne designed and helped build their home on the family farm where Myron had lived and where the children were born. The first winter back in Minnesota the records were broken; it was so very cold that we had to thaw out the pipes to the oil stove and the water and ourselves.  Myron would say "just stay in bed you'll be warm." We threw water outside only to see it burst into a gas which looked like fireworks. It just made us want to work harder to get out of his mother's old house.  Finally the day in October of 1996 we moved into our new home where it was warm and comfortable. Since moving back here we have torn down  many of the half standing buildings,  built some new ones, and managed  to save the old barn that would have eventually fallen down in the very near future.  We had some Amish young men and a barn restoring companies from Michigan come out to move and rebuild the old barn. It was a blast to watch these amazing young men crawl all over the bam like spiders getting ready to move.
We enjoyed our many trips up north to Duluth and Grand Marias and particularly to a camp in Ely where Myron showed the younger men how to cut down big trees and land them on a dime. Bravo old man!  We enjoyed many travels over the past 60 years and have been to almost all of the 50 U.S. states, all over Canada, Denmark, Switzerland, Greece, Egypt, Hawaii, Alaska and 2 times to Israel, New Brunswick, and his tour of duty to Korea. He has visited all of the Western National Parks in the United States.
Myron and Yvonne celebrated their 50th golden wedding anniversary on June 2, 2006  with a wonderful  dinner and reunion at the best western  in Hutchinson, Minnesota.
Myron  is survived  by his wife: Yvonne  Marie  Malloy  Piker,  a son, Daniel  Allen  Piker  and  his wife, Patricia  Piker  of  Hutchinson,  Minnesota Daughters: Elloa Marie Byler and her husband, Gordon, of North Newton, Kansas and Babette Cary Piker of Hutchinson, Minnesota.
Grandchildren: James and Jessica Byler of Newton, Kansas, Stacie, Andrew and Garrett of North Newton, Kansas and Stephen Byler of Independence, Missouri.
Step grandchildren: Anthony and Kari Lindsay of Owatonna, Minnesota and Jacob Lindsay & Halie McNabb of Hoffman, Minnesota.
Great grandchildren: Adara, Gwendolyn, Natalia and Bjorn Byler (children of James & Jessica Byler).
Step Great grandchildren: Morgan Lindsay (daughter of Jacob Lindsay & Halie McNabb) and Nathan Lindsay (son of Anthony & Kari Lindsay).
Myron is now on a heavenly journey that will allow him to see and be received into the most heavenly awesome sight, image streets of gold, rubies that sparkle like the sun and the green with a brilliance you can barely imagine.  At the end of his journey he will see our everlasting family as he is welcomed into his new home with God and Jesus.
Myron was a loving husband and loved all his children, grandchildren and great grandchildren. He never refused to pack and go travel to see the kids and grandkids. He was dependable, did not drink or smoke and brought home a weekly pay check and was a great example to his children.  He attended church no matter what happened and he wanted you all to know his favorite Bible verse John 3:16 and what that verse meant to him.