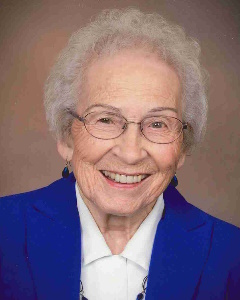 Service Information
Myrtle Catherine Buesgens, age 98, of Norwood Young America, Minnesota, passed away Friday, May 19, 2023, at The Lutheran Home in Belle Plaine, Minnesota.
Mass of Christian Burial will be held Friday, May 26, 2023, 11:00 A.M., at Church of the Ascension in Norwood Young America with interment at Fort Snelling National Cemetery at a later date.
Gathering of Family & Friends will be held Friday, May 26, 2023, from 9:30 – 11:OO A.M., 1 ½ hours prior to the service at the church.  
Visitation/Gathering
Church of the Ascension
323 Reform Street
Norwood Young America, MN
Service
Church of the Ascension
323 Reform Street
Norwood Young America, MN
Funeral Chapel
Paul-McBride Funeral Chapel
218 Hill Street W
Norwood - Young America, MN 55368
Phone:(952) 467-3281
Cemetery
Fort Snelling National Cemetery
7601 34th Avenue S
Minneapolis, MN
Obituary
Myrtle Catherine (Bigaouette) Buesgens was born March 16, 1925, to Sylvester & Clara (Barlage) Bigaouette in Washington Lake Township, Sibley County, Minnesota. She was baptized, received her first Holy Communion, and was confirmed in her faith at Assumption Catholic Church, Sibley County, MN. She graduated from 8th grade in a country school - District 42 in 1939 and in 1943 she graduated from Belle Plaine High School.
 
Myrtle loved to cook and was a waitress in Jordan, MN, until she enlisted in the United States Navy in April of 1945 where she served as the ship's cook in Jacksonville, Vero Beach, and Miami, Florida. She received her honorable discharge in June 1946. On June 28, 1947, Myrtle was united in marriage to Elroy Buesgens at St. Peter & Paul's Catholic Church in Belle Plaine. This union was blessed with 12 children - 4 sons and 8 daughters. Elroy & Myrtle lived in Belle Plaine until they moved to Norwood in April 1954. 

When Myrtle's children were old enough, she started working the night shift at Rothfork's Truck Stop in rural Norwood as a cook & waitress. Later, she was employed on the night shifts at Tonka Toys, HCI, Hutchinson Technology, and Empak, where she retired in February of  1993.

Myrtle and Elroy enjoyed traveling with bus tours and seeing many parts of the United States. When Elroy passed away in May of 1993, Myrtle began volunteering at the Waconia Ridgeview Hospital Gift Shop while also working as a hostess at the Chanhassen Dinner Theatre until she retired at the age of 85. During the last few years in her home, she always had a jigsaw puzzle going on the dining room table and loved it when her children and grandchildren came over to help her put it together.

Myrtle practiced her faith devoutly, attending mass and holy hours, and like any true Catholic, she loved to play bingo. She moved to the Harbor in 2016 and later the Reflections at the Haven until she entered the Lutheran Home in Belle Plaine in December of 2018. Myrtle will always be remembered by her family for her delicious apple pies, pumpkin pies, rhubarb torte, cakes, and her "yummy" potato salad. She loved making fun craft items that she shared with many friends and family. She loved it when her children, grandchildren, and great-grandchildren came for a visit. She was a fun-loving mom and grandma with a great big smile that will be missed by many.
Myrtle is survived by
Sons, Greg (Cathy) Buesgens,
          Jeff  (Jody) Buesgens,
          Anthony (Cheryl) Buesgens,
          Tim (Laurie) Buesgens;
Daughters,  Diana (Duane) Kroells,
                   Debbie (Ron) Schabel,
                   Shelly (Sue Benson) Buesgens,
                   Cindy (Lenny) Hilgers,
                   Nancy (Steve) Eiden,
                   Becky (Dean) Balzum,
                   Theresa (John) Beussman;
Son-in-Law, Tim Ferrara;
Sister, Irene Castor;
Sisters-in-law, Sandy Buesgens, Beverlee Schultz;
Brother-in-law,  Merlyn Buesgens;
29 grandchildren;
64 great-grandchildren;
Many nieces, nephews, other relatives, and friends.
Myrtle was proceeded in death by her Husband, Elroy Buesgens; Daughter, Kathleen Ferrara; Grandson, Matthew Beussman; Parents, Sylvester Bigaouette and Clara (Bigaouette) Holtz (stepfather, William Holtz); Parents-in-law,  William and Crescence Buesgens; Brothers, Francis (Kathryn, Florence) Bigaouette, Raymond (Frances) Bigaouette, Thomas (Georgia) Bigaouette, Gerald (Donna) Bigaouette, Richard (Ardene) Bigaouette; Sisters, Marie (Irving) Brazil, Josephine (Edmund) Deutsch, Ethel (Andrew) Hervin; Brothers-in-law and Sisters-in-law, Harold (Bud) Castor, Gerald (Helen) Buesgens, William (Carol) Buesgens, James Buesgens, Jeannette (Virgil) Hagemeyer, Gladys (Edward) O'Day, Shirley (Clete) VonBank, Harriet (Otto) Schmidt, Elaine (Eldred) Hennen.