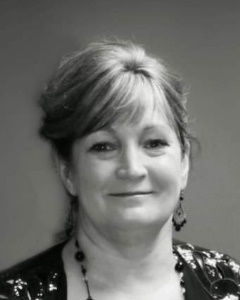 Service Information
Nancy Jo Olson, age 65, passed away on Wednesday, December 28, 2022, at New Ulm Medical Center, New Ulm, Minnesota. 
Arrangements are pending with the Dobratz-Hantge Funeral Chapel in Hutchinson.
Funeral Chapel
Dobratz-Hantge Funeral Chapel
899 Highway 15 South
Hutchinson, MN 55350
Phone:(320) 587-2128
Obituary
Nancy Jo Louise Olson was born and raised in Mandan, ND. Her parents were Helen Werre Woodwick and Walter J. Woodwick. When Nancy was a toddler, she was one of the winners in a beautiful baby contest in Bismarck, ND. Her childhood in a small North Dakota town meant she and her siblings could walk to the cinema, swimming pool, Dairy Queen, go ice skating, sledding, and enjoy all the wonderful activities of a safe, small town in the 1960's. She graduated from Mandan High School in 1976.
Nancy met and married Randy Olson in 1977. They originally lived in Mandan, North Dakota. They had two daughters; Melissa Joy and Jennifer Kay. They later moved to Hutchinson, MN to raise their daughters. Nancy spent the bulk of her career working for 3M.
Nancy loved to fish and camp. She loved Christmas baking and would bake delicacies such as; butterballs, nutmeg logs, and M&M cookies. She loved to make huge batches of pickles and plant flowers. Nancy's most enduring quality was a contagious "crazy" laughter. She lived to laugh and her eyes would light up and she would hit the table, laughing hysterically. Her laughter and sense of merriment will be
greatly missed. She had a big generous heart and would wish her family and friends Good Morning by text message each morning.
Nancy passed away at New Ulm Medical Center in New Ulm, MN after a wintertime accident where her vehicle skidded off the side of the highway after a recent storm.
Nancy is survived by her
Daughters Melissa (Brian) Christensen of Hutchinson, MN,
and Jennifer (Chris) Carrillo of Hutchinson, MN;
Grandchildren Michael, Emily, Cooper, Easton, Kaidin, Kami, and Haze;
Siblings Rosemarie (Charles) Propst of Red Wing, MN,
Peggy Hawkins of Medellin, Colombia,
James (Connie) Woodwick of Crane, TX,
and DiAnne (Jeffrey) Doll of Missoula, MT;
Randy Olson of Hutchinson, MN;
Friend Marv of Lafayette, MN;
as well as many other friends and family.
Nancy was preceded in death by her parents Walter and Helen Woodwick and her brother Roger J. Woodwick..
Nancy was a beloved Mother, Grandmother, sister, aunt and friend who will be greatly missed by all those she touched.