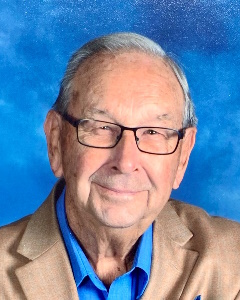 Service Information
Neil B. Berger, age 95, of Hutchinson, Minnesota, passed away on Tuesday, February 28, 2023, at Fairview Southdale in Edina, Minnesota.
Memorial Service will be held on Saturday, March 11, 2023, at 12:00 P.M. (Noon) at Grace Lutheran Church in Hutchinson, with interment in the Oakland Cemetery in Hutchinson.
Gathering of Family and Friends will be held one hour prior to the service at the church.
Memorials preferred to Grace Lutheran School Fund or donor's favorite charity.
Visitation/Gathering
Grace Lutheran Church
430 5th Avenue SW
Hutchinson, MN
Service
Grace Lutheran Church
430 5th Avenue SW
Hutchinson, MN
Funeral Chapel
Dobratz-Hantge Funeral Chapel
899 Highway 15 South
Hutchinson, MN 55350
Phone:(320) 587-2128
Cemetery
Oakland Cemetery
805 Hwy 15 South
Hutchinson, MN
Obituary
Neil Bernard Berger was born to Harry and Margaret (Abraham) Berger in Moltke Township, Sibley County, MN, on February 25, 1928. Neil was baptized at Emmanuel Lutheran Church, Wellington Township, Renville County, MN. He confirmed his faith in Jesus at Immanuel Lutheran Church, Gibbon, MN. He married the love of his life, Donna Dickmeyer, at St. John's Lutheran Church, Fairfax, MN, on June 11, 1949. The Lord blessed them with almost 74 years of marriage.
Neil and Donna farmed on the Berger homestead in Moltke Township until their retirement in 1989, when they moved to Hutchinson, MN.
They were active members at the churches they attended: First Immanuel Lutheran in Gibbon, and then at Grace Lutheran in Hutchinson. While attending Immanuel Lutheran, Neil served joyfully on the church board as both an Elder and Board Member.
God blessed Neil and Donna with two children, Michael (Kettle Falls, WA) married to Deb Stark, and Sheila Waldman (St. Louis Park, MN) married to Brett Waldman.
Neil was a passionate farmer at heart. After retirement he would often drive to the farm enjoying every season and the changes to the land and crops that he so delighted in. He was a wealth of agricultural knowledge…and good common sense.
Neil and Donna enjoyed many winters in Arizona. They traveled the country loving the great U.S.A. and all the beauty that it holds. They enjoyed countless hours on the golf course where they met lifelong friends on the fairways and greens. These dear friends greatly enhanced their days.
Neil is survived by his wife Donna, his children and their spouses, Mike and Deb, and Sheila and Brett, along with extended family. Neil loved well, and he was well loved. He cherished all of his family and loved every opportunity to share precious time with his nieces, nephews and countless friends.
"Soft-hearted instead of hard-headed, that is what love is all about." Author unknown.
Neil's life reflected Ephesians 4:32 (NASB).
And be kind to one another, tender-hearted, forgiving each other,
just as God in Christ also has forgiven you.