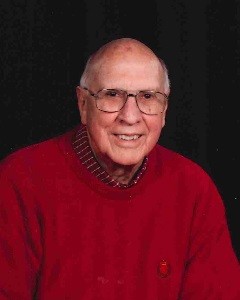 Service Information
Noel Lawrence Phifer, age 90, of Glencoe, Minnesota, passed away Monday, April 11, 2016, at his residence in Glencoe, Minnesota.
Funeral Services will be held Friday, April 15, 2016, 2:00 P.M. at Christ Lutheran Church in Glencoe, Minnesota, with interment following at the Glencoe City Cemetery in Glencoe, Minnesota.
Visitation will be held Thursday, April 14, 2016, from 4:00 – 7:00 P.M. at Christ Lutheran Church in Glencoe, Minnesota, and will continue one hour prior the service at the church on Friday.
Visitation/Gathering
Christ Lutheran Church
1820 Knight Avenue N
Glencoe, MN
Service
Christ Lutheran Church
1820 Knight Avenue N
Glencoe, MN
Funeral Chapel
Johnson-McBride Funeral Chapel
1222 Hennepin Avenue
Glencoe, MN 55336
Phone:(320) 864-3737
Cemetery
Glencoe City Cemetery
301 Chandler Ave. N
Glencoe, MN
Obituary
Noel Lawrence Phifer was born on June 29, 1925, to Joseph and Ora (Kloos) Phifer, in Donnelly, Minnesota.  He was the youngest of six children.  Noel was baptized on July 19, 1925, at St. John's American Lutheran Church, Donnelly, Minnesota, by Reverend Gustav A. Pilgrim, and confirmed at the same church on June 12, 1938, by Reverend C. J. Kumpf.  He received his elementary education in Donnelly, Minnesota, and secondary in Alberta, Minnesota, graduating in 1943.  Following graduation he joined the Marine Corps and served thirty-three months.  He went through boot camp in San Diego and took his combat training in communications at Camp Pendleton.  He was shipped overseas to Pearl Harbor, the Midway Islands for fifteen months, back to Pearl Harbor, then on to Okinawa and Guam, serving a total of twenty-seven months in the Pacific Theatre and his last six months in China.  He was honorably discharged in April, 1946.  After being discharged, he worked at various jobs until he attended the College of Commerce in Minneapolis and received an Accounting Degree.  He then attended St. Cloud State Teacher's College, earning a B.S. Degree in 1951 with majors in Physical Education and Business.  He received his Master's Degree in School Administration at South Dakota State University in 1965.
Noel's first teaching and coaching position was in Stewart in 1951.  He also taught in Alberta, coached and taught in Butterfield and returned to Stewart as the High School principal in 1964.  In 1968, he came to Glencoe where he started one of the first middle schools in the State of Minnesota and served as Principal until his retirement in 1984.  In the years between Stewart and Butterfield, he also worked as Cashier at the First State Bank of Stewart and sold Lutheran Brotherhood insurance, living in Olivia and Bird Island before he returned to his true love of teaching and coaching.
On May 29, 1955, he married Beverly Miller at St. Paul's American Lutheran Church in Stewart.  This union was blessed with three children: Noel, Jr. (Ace), Kimberly, and Scott.  Noel and Bev enjoyed 60 years of married life and did everything together.
Noel was a member of the Lutheran Church in Butterfield, St. Paul's Lutheran in Stewart where he taught Sunday School for the high school classes, Christ Lutheran in Glencoe where he taught confirmation classes, served as a lay minister, and was on the church council.  He served on the Hospital Board, Library Board, and Pioneer Land Library Board, and was a member of "Befrienders", Hospice, the Hutchinson American Legion Club Post 96, and a Life Member of the Glencoe Veterans of Foreign Wars Post No. 5102.  He was a past member of the Butterfield Fire Department, Stewart American Legion Club, Stewart and Glencoe Lion's Clubs and the Hutchinson and Glencoe Country Clubs, as well as President of the McLeod Ave. Townhome Association.  Following retirement he also served as an instructor for the "55 Alive course", delivered Meals on Wheels and worked at Ford Mercury.  He served one term as Mayor of Glencoe and received the 1999 Chamber of Commerce Senior Citizen of the Year Award.
He loved his vacations, especially traveling to the west coast, visiting Thailand and the Hawaiian Islands, taking a Caribbean cruise, seeing the WWII memorial in Washington D.C. and the Statue of Liberty in New York City, and many other points of interest in the U.S.  He also enjoyed golfing, bowling, dancing, playing cards, family reunions with siblings, visiting with friends and relatives, and attending his children's and grandchildren's athletic and theater events.  Blessed be his memory.
Noel is survived by his:
wife, Beverly Phifer of Glencoe, MN;
children, Noel Phifer, Jr. and his wife, Bridget, of New Ulm, MN,
Kimberly Phifer of Winthrop, MN, formerly of Eau Claire, WI,
Scott Phifer and his wife, Paradee, of Hutchinson, MN;
grandchildren, Luke and Matthew Phifer,
Cara, Cayla and Kendra Kluver,
Wiphawi Phifer;
sister, Cora Caldart;
sisters-in-law, Ordell Klucas,
Ronna Miller;
nieces, nephews, and many friends and relatives.
Noel is preceded in death by his parents, Joseph and Ora Phifer; sisters, Helen Phifer, Jean Sherstad; brothers, Joseph Phifer, Lee Phifer; brothers-in-law, Cars Sherstad, Clyde Caldart, Roger Miller, Quentin Klucas; sisters-in-law, Katherine Phifer, Lois Phifer; nephew, Ricky Sherstad.