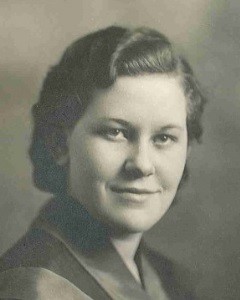 Service Information
Norma Zuelke, age 99, of Buffalo Lake, passed away Monday, November 9, 2015, at the Buffalo Lake Healthcare Center.
Memorial Service will be Saturday, November 14, 2015, at 11:00 A.M. at Zion Evangelical Lutheran Church in Buffalo Lake, with interment in the Church Cemetery.
Visitation will be held Saturday at Zion Evangelical Lutheran Church for one hour prior to the service, beginning at 10:00 A.M.
Memorials preferred to Renville County Hospice and to Buffalo Lake Healthcare Center F.R.E.E.
Service
Zion Evangelical Lutheran Church
228 5th Street NW
Buffalo Lake, MN
Funeral Chapel
Hughes-Hantge Funeral Chapel
311 Main Street S.
Hector, MN 55342
Phone:(320) 848-6297
Cemetery
Zion Lutheran Cemetery (Buffalo Lake)
Buffalo Lake, MN
Obituary
     Norma Violet Zuelke was born September 17, 1916, in Buffalo Lake, Minnesota, the daughter of Harold and Amanda (Henschke) Michelson. She was baptized as an infant at Zion Evangelical Lutheran Church in Buffalo Lake, and was confirmed there as a youth. Norma grew up in a family of 11 children, and received her education in Buffalo Lake. She played basketball until her sophomore year, and excelled in Declamation her last three years of High School. Norma sang in choir, participated in forum plays, and was active with the Zion Luther League. She graduated as Salutatorian with the Class of 1934. 
     On June 20, 1936, Norma was united in marriage to Fredrich "Fred" Zuelke at the Swedish Lutheran Church in Hector. They made their home in Buffalo Lake, and lived in the house Norma grew up in. From 1951 to 1966, Norma and Fred owned and operated Your Café in Buffalo Lake. The following five years they worked at Freddy's Café in Hector. They also managed Oakdale Country Club for 30 years. Norma and Fred had shared 59 years of marriage when Fred passed away on June 24, 1995. Norma moved to an apartment until 2003 when she moved to the Buffalo Lake Healthcare Center.
     Norma worked alongside her husband throughout their working years, but was also active with many hobbies.  There wasn't anything Norma couldn't sew, and she did a great deal of sewing and quilting. She loved needle work, embroidering, and candlewicking. She liked to read, especially history. Norma kept active by golfing and bowling.  She was a member of Zion Evangelical Lutheran Church in Buffalo Lake. From 1954-1955, Norma was the Buffalo Lake PTA President.
     In the early morning hours of Monday, November 9, 2015, Norma passed away at the Buffalo Lake Healthcare Center, having reached the age of 99 years. Blessed be her memory.
     Norma is survived by her: Children: Darla (Roger) Lovald of Amery, Wisconsin, Robert (Meriel) Zuelke of Indianapolis, Indiana, and Ann (Ron) Hines of Ellsworth, Wisconsin; 5 Grandchildren; 10 Great-grandchildren; 2 Great-great-grandchildren; several Step-grandchildren; Sister and Brother-in-law, Arlene and Wallace Nelson of Willmar, Minnesota; Sister-in-law, Eleanor Michelson of Buffalo Lake; Nieces, nephews, other relatives, and friends.
     Norma was preceded in death by her Parents, Husband Fredrich R. Zuelke, Grandson Scott A. Lovald, and nine brothers and sisters.