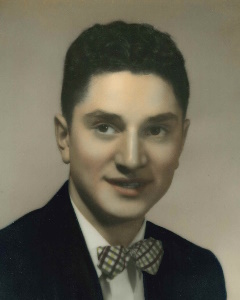 Service Information
Norman K. Johnson, age 87, of Dassel, formerly of Hutchinson, Minnesota, passed away on Monday, August 21, 2023, at Lakeside Generations Health Care Center, in Dassel.
Private Family Graveside Service will be held.
Funeral Chapel
Dobratz-Hantge Funeral Chapel
899 Highway 15 South
Hutchinson, MN 55350
Phone:(320) 587-2128
Obituary
Norman Kenneth Johnson was born Dec. 20 1935, on the family farm near Biscay. He was the second son and third child of Frank and Elsie (Luedtke) Johnson. Norman was baptized as an infant, and was later confirmed in his faith as a youth, both at Peace Lutheran Church in Hutchinson. He received his education in Hutchinson and was a graduate of Hutchinson High School Class of 1953. Norman furthered his education at the University of Minnesota and Dunwoody Institute, both in Minneapolis, and at the University of Minnesota, St. Paul campus.
Norman was a dairyman on the family farm near Biscay. Later, he raised hogs and chickens when the family moved to a farm northwest
of Hutchinson.
As a lifelong resident of Hutchinson, Norman enjoyed all the city offered, but especially enjoyed the McLeod County Fair. He also traveled visiting school friends in New York City. His hobbies included reading, researching dairy herd bloodlines, crossword puzzles and watching movies. He also enjoyed spending time with family and friends.
When Norman needed assistance with his daily care, he became a resident of Augustana Lakeside Health Care Center of Dassel. There he enjoyed reading, television and visiting with family and friends.
Norman passed away Monday, August 21, 2023, at the age of 87 years. Blessed be his memory.
Norman is survived by his
nieces, Kay Johnson of Hutchinson; Jill Johnson of Excelsior; and Lynn Lauer (James) of Hutchinson;
Jacqueline Draper (Philip) of Big Pool, Maryland; Julie Petersen and her partner David Stortz of Cedar Rapids, Iowa; Jeffrey Petersen (Heather) of Fort Morgan, Colorado; sister-in-law Marianne Johnson of Hutchinson; and grandnieces Elisabeth Nelson (Tom) of Cokato; Rebecca (Andrew) Dovolis of Edina; Kately Petersen and Katherine Judd; and great-great nephews Alexander and Archer Nelson and John Dovolis.