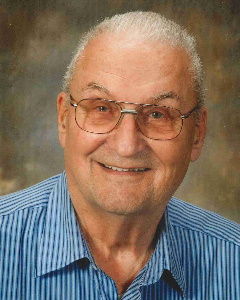 Service Information
Orlin Henry William Graupmann, age 91, of Plato, Minnesota, passed away on Thursday, August 4, 2022, at GlenFields Living With Care in Glencoe, Minnesota.
Funeral Service will be held Saturday, August 20, 2022, 11:00 A.M. at St. Paul's United Church of Christ in Plato, Minnesota with interment following at the church cemetery.
Visitation will be held Saturday, August 20, 2022, from 9:00 – 11:00 A.M. at St. Paul's United Church of Christ in Plato, Minnesota, two hours prior to the service.
Visitation/Gathering
St. Paul's United Church of Christ
308 1st Street NE
Plato, MN
Service
St. Paul's United Church of Christ
308 1st Street NE
Plato, MN
Funeral Chapel
Johnson-McBride Funeral Chapel
1222 Hennepin Avenue
Glencoe, MN 55336
Phone:(320) 864-3737
Cemetery
St. Paul's UCC Cemetery (Plato)
Plato, MN
Obituary
It's not easy saying goodbye to someone you love and admire. Dad was good to us all. Sometimes, when I was younger, I would fall back on the easy way out, thinking "he's stubborn," etc.
It became much clearer to me as I aged, that he was unbelievably tough and resilient in his life.
He had no choice… he wanted to survive. Not an easy life growing up on a farm during the Depression. Combat in Korea.  He was in the heaviest fighting on "Old Baldy" and "Pork Chop Hill," and "Heartbreak Ridge."  Dad never talked about those days, he wanted to bury those horrible memories (which made me mad, as I wanted to learn) which haunted him for years, but I grew up to understand it was his way of dealing with the pain and trauma in that part of his life. It was HIS PAIN, HIS TRAUMA. He didn't want to burden us.
He married Mom before he left for Korea.  The absolute best match for each other! If I would forget who I was, and argue with Mom, I soon found out whose side he would take… it wasn't mine. 
Mom and Dad had fun times… Mom's laugh and Dad's quiet smile. Dad always took care of Mom when she developed Alzheimer's Disease. He struggled with Respite Care guilt, as I called it.  He knew Mom was being well cared for but did not realize the Respite was meant for him… "I don't need that," he would say.  He kept on powering through to survive…
He survived a major construction explosion when I was 8 months old. Four major back operations in 1963-64.  His back had scars and stitches that made it resemble a giant ship's sea anchor.  No complaints, he could walk with fused vertebrae, he just couldn't bend his back.  Back in the day, he was in a double room in Methodist Hospital… his roommate was always complaining about his own problems and Dad finally asked the Doc if Dad could be moved to another room as his mental health was getting affected. Dad got moved and left the hospital after laying on his stomach for 30 days I was told.  I can remember him in a body cast, one of 4, I guess.  He couldn't work for 4 years. It had to have been hard on my two older brothers who are 4 and 8 years older than myself. Those 4 years at those ages would be primetime for wanting stuff… I was low maintenance as cloth diapers weren't expensive for a few of those years, but I'm sure it was tough on them!  It helped make them who they are.
Dad often talked about how thankful and grateful he and Mom were to friends and relatives in Plato and elsewhere getting them through those tough times and Social Security Disability took forever (I'm told a year) to arrive.  I've heard stories of people helping with credit for fuel oil, later signing a loan to allow Mom and Dad to remodel their turn of the previous century house… Uncle Pete and Auntie Bev Graupmann with Beef… Auntie Sharon Mackenthun and Uncle Gene (sorry again about that accident in the Galaxie, who knew when you changed a 1-year-old inside a car that something could get wet??).  I know all the Aunts and Uncles along with others watched us brothers so Mom could stay with Dad during those long hospital stays… Thank you for helping to raise us! All the others who helped in ways large and small, we thank you!
My real point again is Dad never gave up… sure, he didn't like all the cards he was sometimes dealt, but you play.
We have a great family of relatives and friends in Plato and beyond who just do good when good needs doing.
Dad had a great lifelong spirit. It was always fun when he was with his siblings and spouses, or Mom's side… amazing stories I've heard and fun we've all had. 
He was not in a hurry to leave us, and we appreciate that, but we all know he is very happy now.    (John Graupmann - Son)
++++++++++++++++++++++++++++++++++++++++++++++++++++++++++++++++++++++++++++++++++++++++++++++
Orlin Henry William Graupmann was born on November 11, 1930, in Plato, Minnesota. He was the son of Harold and Hilda (Templin) Graupmann. Orlin was baptized as an infant on November 23, 1930, and was later confirmed in his faith as a youth on April 2, 1944, both at St. Paul's Evangelical and Reformed Church in Plato, Minnesota.  He received his education in Plato and Glencoe and was a graduate of the Glencoe High School Class of 1948. Orlin continued his education at the Control Data Institute in Minneapolis, Minnesota, earning himself a diploma in Computer Technology in 1967.
Orlin entered active military service in the United States Army on January 16, 1952, in Minneapolis, Minnesota. He served in the Korean War achieving the rank of Sergeant First Class. Orlin was awarded the Combat Infantryman Badge, Korean Service Medal with 2 Bronze Service Stars, and the United Nations Service Medal. He received an Honorable Discharge from active duty on October 15, 1953.
Orlin was united in marriage to Ella Benkowski on November 16, 1951, at St. Paul's Lutheran Church in Lester Prairie by Rev. Ritz. While Orlin was in Korea, they made their home in Lester Prairie, and following his return, they moved to rural Plato. They also lived on the Iron Range in northeastern Minnesota for a few years before returning to Plato. This marriage was blessed with three sons, Gary, Douglas, and John. The couple shared 51 years of marriage until Ella passed away on November 12, 2002.  
Orlin worked in construction as well as the electronics and computer industry, retiring in 1989. Orlin played an active role in the Plato community; he was a member of St. Paul's United Church of Christ, a member of the Plato Fire Department for 20 years, served as Treasurer for 7 of those years, the Plato American Legion for 67 years, and served as the Plato City Mayor for several years.
Orlin enjoyed fishing, deer and pheasant hunting, and woodworking. He especially enjoyed spending time with his family, grandchildren, and friends.
Orlin passed away on August 4, 2022, at GlenFields Living With Care in Glencoe, at the age of 91 years. Blessed be his memory.
Orlin is survived by his:
Sons,   Gary Graupmann and his wife, Dale, of Glencoe, MN,
            Douglas Graupmann and his wife, Shannon, of Deer River, MN,
            John Graupmann and his wife, Ann, of Plato, MN;
Grandchildren, Sarah (Zach) Nott, Andrew (Jenny) Graupmann, Shawn (Beth) Graupmann, Mariah (Dustin) Nelson, Alicia (Tom) Shelton, Cody (Cassandra) Graupmann, Elsie Graupmann, Emily Graupmann;
Great-Grandchildren, Addison Nott, Bennett Nott, Patrick Graupmann, Matthew Graupmann, George Graupmann, Charlotte Graupmann, Robin Graupmann, Ruth Lynn Shelton, Hunter Merrilyn Graupmann, and the "One on the Way" Nelson;
Sister, Sharon Mackenthun and her husband, Gene of Glencoe, MN;
Sisters-in-law, Darlene Graupmann of Babbit, MN, Beverly Graupmann of Plato, MN;
Brother-in-law, Edwin Lamott of Silver Lake, MN;
Many nieces, nephews, other relatives, and friends.
Orlin is preceded in death by his Parents, Harold and Hilda Graupmann; Wife, Ella Graupmann; Brothers, Earl Graupmann, Elmer "Pete" Graupmann; Sisters, Norma (Hillard) Bandemer, Ruth (Duane) Miller; Sisters-in-law, Elvera (Virgil) Fruetel, Dorothy LaMott, and Lillian (Wilmer) Dammann; Nephews, Jerry Fruetel, Michael Fruetel, Jeffery Miller, Michael Miller; Nieces, Mary Lou Fruetel, Shelly Graupmann Zillmer.