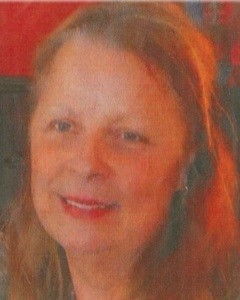 Service Information
Pamela Tracy, age 62, of Hector, formerly of Minneapolis, passed away unexpectedly on Wednesday, May 7, 2014, at the Renville County Hospital in Olivia.
Memorial Service will be held Saturday, May 17, 2014, at 10:30 A.M. at Hillcrest Methodist Church in Bloomington. 
Visitation will be held for one hour prior to the service at the Church on Saturday.
Funeral Chapel
Hughes-Hantge Funeral Chapel
311 Main Street S.
Hector, MN 55342
Phone:(320) 848-6297
Obituary
     Pamela Ann Tracy was born on January 28, 1952, in Minneapolis, Minnesota.  She was baptized as an infant and confirmed at Calvary Cahill Lutheran Church in Edina.  She grew up in the metro area where she attended her early education in St. Louis Park and graduated from the Eden Prairie High School in 1970 where she was active in gymnastics.  Pam continued her education at St. Mary's College of Nursing for two years.  Pam was employed with the City of Minneapolis in the Planning Department for over twenty years.  She retired in July, 2013.
     On May 7, 2005, Pam was united in marriage to Martin Ray Tracy at St. Andrew's Lutheran Church in Eden Prairie, Minnesota.  They lived in the metro area until September of 2013 when they moved to Hector, Minnesota.
     Pam loved her nephews, their spouses, and her nephew Brent's children.  She also enjoyed spending time with Marty's kids and grandchildren.  Pam was an organizer and a planner.  She enjoyed music, poetry, and art.  She loved spending time at the cabin in Longville with family and friends.  She liked photography, especially taking pictures of birds.  Pam took pride in her yard and enjoyed spending time outdoors.  She was an active member at Living Grace Church in Bloomington, Minnesota.
     Pamela passed May 7, 2014, at her home in Hector, Minnesota.  She was a loving, faithful wife of nine years to Marty Ray Tracy.  She was preceded in death by her parents, Phyllis and Ed Sherman, her biological father, Clarence Messig, and her brother Chris.
     Pam is survived by her siblings: Dawn Ellefson (Walt), and Todd Sherman; 
Nephews: Brent Ellefson (Kathy), Chad Ellefson (Kimara), and Ryan Ellefson (Amanda); 
Great- nieces and Great-nephews: Madeline, Megan, Noah, and Aaron; 
Marty's children: Emily Nebben (Jay), Mike Tracy (Marjorie), Tim Tracy (Laura), Anna Tracy (Mike), and Heather Tracy (James);
Grandchildren: Carter, Dylan, Zach, John, Caleb, Nora, and Wyatte.