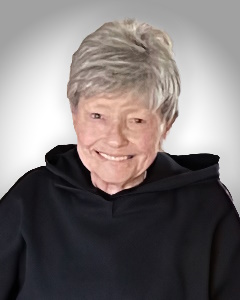 Service Information
Pamela R. Graves, age 79, wife of Philip, of Hutchinson, Minnesota, passed away on Monday, September 25 2023, at her home.
Memorial Service will be held on Saturday, October 28, 2023, at 11:00 A.M. at Bethlehem United Methodist Church in Hutchinson, with Private Family Graveside Service in Oakland Cemetery in Hutchinson.
Gathering of Family and Friends will be held two hours prior to the service at the church.
Memorials preferred to the Hutchinson Center for the Arts.
Funeral Chapel
Dobratz-Hantge Funeral Chapel
899 Highway 15 South
Hutchinson, MN 55350
Phone:(320) 587-2128
Obituary
Pamela Rae Graves passed away September 25, 2023. Born in 1944 to Raymond and Mary Jane Baxter, Pam was the oldest of three children.
She began her professional career as a stewardess for Northwest Airlines. It was during this time she met and married Phil Graves. They were married for 57 years.
Over the years, Pam held a variety of jobs as she raised their three children, but the job she enjoyed the most was working at the makeup counter at a local department store. She was an excellent saleswoman, knew the products better than anyone, and loved interacting with customers.
Pam loved to travel and spent many years visiting her daughter during the summers in Alaska. She also traveled to and was proud to volunteer in the Hurricane Katrina efforts. She and Phil spent many retirement years traveling around the country in their motor home, and she particularly enjoyed visiting the South.
She was an avid fisherman, fishing for walleye on Leech Lake, salmon on the Kasilof River, and Halibut in Cook Inlet. She loved to garden and was very proud of the delicious tomatoes she raised each year.
But what Pam really loved more than anything was playing games with her family. We will fondly remember the love and laughter playing games during the holidays and get togethers that were so raucous she almost couldn't take it!
Her grandchildren remember her for her sense of humor. She was always the first person to get a joke and always had a quick-witted comeback.
Pam is preceded in death by her infant daughter, Jacqueline, and parents, Ray and Mary Jane. She is survived by her husband, Phil; children, Paula (Lenny) DiPaolo, Jeffrey (Hyun Mee) Graves, and Teresa Graves; grandchildren, Emily, Abigail, Samantha, Oscar; great-grandson, Herbie; brother, Bruce (Lynne) Baxter; sister, Jennifer (Sheldon) Wardell.