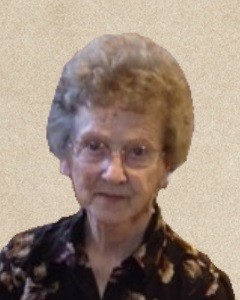 Service Information
Patricia Lind, age 87, of Winthrop, passed away Friday, October 6, 2017, at the Prairie Senior Cottages in New Ulm.
Memorial Services will be Saturday, October 28, 2017, 3:00 P.M. at Peace Lutheran Church in Winthrop. Interment will be in the Winthrop Cemetery.
Gathering of Family and Friends will be two hours prior to the service on Saturday at the church.
Memorials preferred to the Alzheimer's Association.
Visitation/Gathering
Peace Lutheran Church
413 W 5th Street
Winthrop, MN
Service
Peace Lutheran Church
413 W 5th Street
Winthrop, MN
Funeral Chapel
Dalin-Hantge Funeral Chapel
209 West Second Street
Winthrop, MN 55396
Phone:(507) 647-5326
Cemetery
The Winthrop Cemetery
Winthrop, Sibley County
Winthrop, MN
Obituary
Patricia "Pat" Joanne (Larson) Lind was born on April 3, 1930, in Wahoo, Nebraska. She was the daughter of Marvin and Anna (Sundahl) Larson. Pat was baptized as an infant on May 4, 1930, at Bethlehem Lutheran Church in Wahoo, Nebraska, and was later confirmed in her faith as a youth on May 28, 1944, at First Evangelical Lutheran Church in St. Peter, Minnesota. As a child, Pat resided in Wahoo, Nebraska, Berkley, California, Fergus Falls, and St. Peter, Minnesota. She received her education in St. Peter and was a graduate of the St. Peter High School Class of 1948. She furthered her education at Gustavus Adolphus College in St. Peter.
On September 9, 1950, Pat was united in marriage to James Lind at First Lutheran Church in St. Peter, Minnesota. After their marriage the couple resided in Austin and Winthrop. Pat and James were blessed with three children. They shared 59 years of marriage before James passed away on August 3, 2010.
Pat was a member of Peace Lutheran Church in Winthrop.
Pat especially loved farming alongside her husband and looked forward to spring planting and fall harvest. She recalled them as "fun times!" Pat was a good cook and enjoyed baking--especially breads, her favorite being cinnamon rolls! She was always ready to put the coffee pot on and enjoy company with a side of something sweet. She enjoyed antiques and furniture refinishing with Jim, as well as the challenge of caning chair seats, along with knitting, crocheting and sewing. There was often a puzzle on the dining room table that needed "just one more piece" to be found before another chore. She enjoyed her lawn and garden maintenance and tending to the roses that they shared with friends through the years. She was there to lend an ear to the grandchildren and give them her words of "wisdom." Pat loved to see the great-grandchildren--always a source of entertainment and joy!
Pat passed away at the Prairie Senior Cottages in New Ulm, Minnesota, at the age of 87 years. She was deeply loved and will be missed by all.
Pat is survived by her:
Children,         Rebecca "Becky" Monke and her husband, Bruce of Kansas City, KS,
                        Cynthia "Cindy" Galbraith and her husband, Terry of Arnolds Park, IA, and
                        Pamela "Pam" Johnson and her husband, Randal "Randy" of Gibbon, MN;
Grandchildren, Lindsay (Korey) Casselman, Kelsey (Jamie) Brun, Ryan Johnson and his fiancée, Kaylee Brinkman, Ashley (Paul) Warmbold, and Anna Johnson;
Great-Grandchildren, Aubrey, Brianna, Chase Brun; Makayla, Kaleigh Casselman; Ava Johnson;
Sisters-In-Law, Mary Pioske, Mayonna Lind, and Leona Larson;
Nieces, Nephews, other relatives and friends.
Pat was preceded in death by her Parents, Marvin and Anna Larson; Husband, James Lind; Brother, Donald Larson; Grandson, Geoffrey Monke.