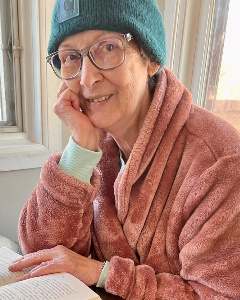 Service Information
Penny Herning, 74, of Bird Island, Minnesota, passed away peacefully on August 21, 2023, after a yearlong battle with breast cancer.
A Celebration of Life will be held on Penny's 75th birthday, November 19th, 2023, at Grama's House in Bird Island. All are Welcome.
Visitation/Gathering
Grama's House
460 S 6th Street
Bird Island, MN
Renville
Funeral Chapel
Hughes-Hantge Funeral Chapel
311 Main Street S.
Hector, MN 55342
Phone:(320) 848-6297
Obituary
Penny was born on November 19, 1948 to Clarence and Marcella Beckler in Willmar MN. After Penny graduated from Bird Island High school in 1966, she went on to attend Beauty School in Minneapolis MN.
After graduating from Beauty School, she worked in the cities for several years and eventually moved back to Bird Island to open her own salon, Guys n Dolls, which she owned and operated for 40 years.
Over the years Penny had three children, Stanley, Loretta and Allyssa. She was in two bowling leagues, enjoyed fishing, reading, listening to music from the 50's and 60's, and going to the casino. She was never one to complain, true to her word, and most of all, she was a feisty little lady who kept her spunk up until her last days.
Penny was predeceased by her mother and father, several aunts and uncles, and her beloved cat, Maddie. She is survived by her children, Stanley Herning and wife Jennifer, Loretta Boustead and husband Zack, Allyssa Herning and fiancé Jason. Grandchildren, Mercedes, Alexis, Shelby, Evan, Henry, Maxwell, and Eleanor. Siblings, Larry Beckler and wife Bonnie, Sue McNamara and husband Paul, Sandy Stuhr and husband Galen. Aunt Lori Buboltz, many cousins, nieces, and nephews she loved dearly.