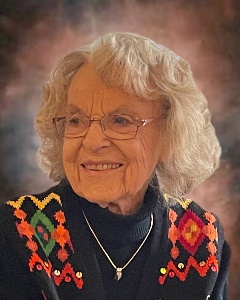 Service Information
Phyllis A. Matthews, age 95, of Dryden, Michigan, formerly of Cosmos, Minnesota, passed away on Tuesday, November 29, 2022, in Dryden.
Funeral Service will be held Monday, December 12, 2022, at 11:00 A.M. at Peace Lutheran Church in Cosmos Minnesota, with interment in Glen Haven Memorial Gardens in Crystal, Minnesota.
Visitation will be held one hour prior to the service at the church.
Visitation/Gathering
Peace Lutheran Church
140 Saturn Street N
Cosmos, MN
Service
Peace Lutheran Church
140 Saturn Street N
Cosmos, MN
Funeral Chapel
Hughes-Hantge Funeral Chapel
311 Main Street S.
Hector, MN 55342
Phone:(320) 848-6297
Cemetery
Glen Haven Memorial Gardens
5125 W Broadway Ave
Crystal, MN
Hennepin
Obituary
Phyllis Adeline Matthews was born on February 19, 1927, in Tenney, Minnesota. She was the daughter of Edward and Esther (Manthie) Larsen. Phyllis was baptized as a youth on Easter Sunday, March 24, 1940, at Calvary Baptist Church in Minneapolis, Minnesota, and was later confirmed into Lutheran as an adult in 1945, at Mount Olive Evangelical Lutheran Church in Minneapolis. She received her education at Central Public School in Minneapolis, Minnesota.
On June 15, 1946, Phyllis was united in marriage to Roland Matthews at First Evangelical Lutheran Church in Glencoe, Minnesota. This marriage was blessed with two daughters, Joan and Cynthia. Phyllis and Roland resided in Crystal, Minnesota, and later moved to Cosmos, Minnesota with her husband and daughter, Joan in 1957, where they purchased the Cosmos Farmers Elevator. They shared 52 years of marriage before the passing of Roland in 1998.
Phyllis was employed as a secretary and treasurer for a variety of businesses and volunteer organizations. She retired in 2018. Phyllis was a member of Peace Lutheran Church in Cosmos. She was the Past President of the Cosmos American Legion Auxiliary and Past President of the Hutchinson Concert Association. Phyllis was also a member of the Red Hats (Scarlet Feather) Society and the Meeker County Aging Board. While on the Meeker County Aging Board, she planted the Hospice Tree in Cosmos.
Phyllis enjoyed spending time at the cabin on Big Kandiyohi Lake, traveling, years of bowling, needlepoint, sewing, talking on the phone, and cheering on the Minnesota Vikings. She especially enjoyed time with her family, grandchildren and friends.
Phyllis passed away on Tuesday, November 29, 2022, in Dryden Township, Michigan, at the age of 95 years.
Blessed be her memory.
Phyllis is survived by her:
Daughter, Joan Smith and her husband, Tom of Dryden Township, MI;
Grandchildren, Greta Weidenhamer and her husband, Michael of Murfreesboro, TN,
Glenda Jones and her husband, Matthew of Plymouth, MI,
Grant Smith and his wife, Lauren of Rochester Hills, MI;
Great-grandchildren, Justin Weidenhamer, Cody Weidenhamer, Brianna Weidenhamer, Michel T. Weidenhamer, Aidan Schieber, Gavin Smith, Grady Smith, Gage Smith, Londyn Smith, Nolan Jones, Caroline Jones;
Niece, Evonne Kirchenwitz and her husband, Melvin of Tonka Bay, MN;
Nephew, Jerry Johnson and his wife, Ann of Brooklyn Center, MN;
Many relatives and friends.
Phyllis is preceded in death by her Parents, Edward and Esther Larsen; Husband, Roland Matthews; Daughter, Cynthia Jane Matthews; Sister, Betty Jane Meland and her husband, Keith.