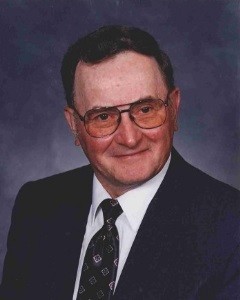 Service Information
Ralph L. Radtke, age 82, of Buffalo Lake, Minnesota, passed away Tuesday, June 14th, 2016, at the Renville County Hospital in Olivia, Minnesota.
Funeral Service will be held Friday, June 17, 2016, at 11:00 A.M. at Trinity Lutheran Church in Brookfield Township, rural Hector, with interment in the Church Cemetery.
Military Honors will be provided by the Beack-Thompson American Legion Post 126 of Cosmos.
Visitation will be held Thursday, June 16, 2016, from 5:00 – 8:00 P.M. at the Hughes-Hantge Funeral Chapel in Hector, and will continue for one hour prior to the service at the Church on Friday.
Visitation/Gathering
Hughes-Hantge Chapel
311 Main Street South
Hector, MN
Website:hughes@hantge.com
Service
Trinity Lutheran Church - Brookfield Township
88320 CR 22
Hector, MN
Funeral Chapel
Hughes-Hantge Funeral Chapel
311 Main Street S.
Hector, MN 55342
Phone:(320) 848-6297
Cemetery
Trinity Lutheran Cemetery (Brookfield Twp)
88320 CR 22
Hector, MN
Obituary
Ralph Leon Radtke was born July 26, 1933, in Hutchinson, Minnesota, the son of William and Ethel (Laabs) Radtke. He was baptized and confirmed in the Trinity Lutheran Church in Brookfield Township, rural Hector, where he continued his life-long membership. Ralph grew up in the Cosmos area, and graduated from the Hutchinson High School in 1951. He continued his education at the University of Minnesota School of Agriculture, graduating in 1956. Ralph also studied at the Veterans Agriculture School and the University of Maryland. 
On January 12, 1956, Ralph entered the United States Army. He served in Germany where he helped organize the First Rod and Gun Club after WWII, and served as the first manager from August of 1956 to October of 1957. Upon his Honorable Discharge on November 13, 1957, Ralph served with the United States Army Reserves for four years, with his final discharge dated January 11, 1962. 
On December 12, 1964, Ralph was united in marriage to Madeline Renstrom at the Blomkest Baptist Church in Blomkest, Minnesota. They made their home on their farm in rural Cosmos, and raised their five children, Leon, Steven, Laura, Scott, and Kristen. Ralph owned and operated a successful dairy farm. 
During his life-long membership in Trinity Lutheran Church, Ralph served in various capacities, as a Deacon, Trustee, Secretary, Treasurer, and Chairman. He also belonged to the Meeker County Holstein Association for 12 years. He was a member of the Renville County Dairy Herd Improvement Association for 17 years, and served on the Minnesota State Board for 6 years. 
Ralph's favorite place to be was at home with his wife and family. Ralph and Madeline also enjoyed traveling, with favorite memories from Austria and Branson. Ralph was passionate about his love for the United States, and his concern for the economy. He was a deep thinker, and shared his ideas. He enjoyed fishing and playing cards, winning his last hand shortly before he passed away. He loved his children, and was blessed to enjoy his grandchildren and great-grandchildren. 
Late Tuesday afternoon, June 14, 2016, Ralph passed away at the Renville County Hospital in Olivia, having reached the age of 82 years. Blessed be his memory. 
Ralph is survived by his:
Wife, Madeline Radtke of Buffalo Lake; 
Children:   Leon Radtke and his Wife, Lisa, of Cosmos,
                    Steven Radtke of Hutchinson,
                    Laura Havon and her Husband, Jerry, of Andover,
                    Scott Radtke of Cosmos, and
                    Kristen Roffey and her Husband, Adam, of Hutchinson; 
Grandchildren: Jennifer Barka (Husband Jon), Brian Radtke, Rebecca Radtke (fiancé Michael Coomes), Adam Radtke (friend Nichole Albertson), Amanda Havon, Alexa Havon, Ava Havon; 
Great-Grandchildren: James Barka, Lilly Barka, Elizabeth Coomes; 
Siblings: Irene McKenny, Alvera (Royal) Boniek, Harvey (Gloria) Radtke; 
Brothers-in-law and Sisters-in-Law: Gloria Radtke, Allan (Gloria) Renstrom, Algene (Alice) Renstrom, Linda (Robert) Gauer, Leroy (Becky) Renstrom; 
and by many nieces, nephews, other relatives, and friends. 
Ralph was preceded in death by his Parents, William and Ethel Radtke, Father-in-Law and Mother-in-law, Gordon and Lillian Renstrom, Siblings, Willard Radtke, Lorraine (and Husband Don) Getz, Brothers-in-law Robert Floy and Martin McKenny, and by his nephews, James Getz, Dean Radtke, and Mark Boniek.