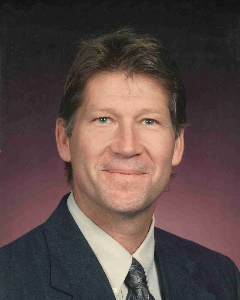 Service Information
Randy Witthus, age 65, of Hudson, Wisconsin, formerly of Glencoe, Minnesota, passed away on Wednesday, November 1, 2023, at his home in Hudson, Wisconsin.
Funeral Service will be held Friday, November 10,  2023, 11:00 A.M., at First Evangelical Lutheran Church in Glencoe, Minnesota, with private family interment following at the First Lutheran Cemetery in Glencoe.
Visitation will be held Thursday, November 9, 2023, from 4:00-7:00 P.M. at Johnson- McBride Funeral Chapel in Glencoe, Minnesota, and will continue one and half hours prior to the service (9:30 A.M. – 11:00 A.M.) at the church on Friday.
Memorials preferred to Kinsella Angels. https://donorbox.org/kinsella-angels-3. The mission of Kinsella Angels is twofold: To support youth in need with leadership and educational opportunities and to decrease social isolation among the elderly.
Visitation/Gathering
Johnson-McBride Funeral Chapel
1222 Hennepin Avenue
Glencoe, MN
Website:hantge.com
Service
First Evangelical Lutheran Church
925 13th Street E
Glencoe, MN
Funeral Chapel
Johnson-McBride Funeral Chapel
1222 Hennepin Avenue
Glencoe, MN 55336
Phone:(320) 864-3737
Cemetery
First Lutheran Cemetery (Glencoe)
Glencoe, MN
Obituary
Randy Roger Witthus was born on January 13, 1958, in Glencoe, Minnesota. He was the son of Earl and Verone (Frauendienst) Witthus. Randy was baptized as an infant on February 9, 1958, and later confirmed into his faith as a youth on March 5, 1972, both at First Evangelical Lutheran Church in Glencoe, Minnesota. Randy graduated with the Glencoe High School class of 1976 and continued his education at North Dakota State University (playing baseball), where he earned a bachelor's degree in education; he later worked toward a graduate degree in physical education and coaching at Mankato State University.
Randy was an outstanding athlete and enjoyed being active. When he was a young man, Randy, along with his brothers, took up the sport of boxing. Their mentor and boxing coach was their encouraging father, Earl.   Randy went on to win the Golden Gloves title for the Upper Midwest region. Randy also played football, basketball, and baseball at Glencoe High School, in 2009 Randy was inducted into the GSL Panther Association Hall of Fame recognizing these many athletic achievements.  Randy also spent many years playing baseball with the Plato (MN) Blue Jays.  
Randy built a career consulting with more than 65 corporations/communities to design fitness facilities and develop employee health and wellness programs.  For the last 20 years, Randy was the manager of Fitness Crossroad in St. Anthony, MN.  He called this facility his second home.  He dearly loved the people he worked with, and Randy would light up when he had the opportunity to help members improve their health. Whether consulting with a member on a physical ailment, personal issue, orthopedic challenge, or perfecting a swing, Randy was in his element when he could provide direction, teach, give instruction, and share some of his vast medical knowledge. 
Randy's faith was very important to him: He was a member of the Family of Christ Lutheran Church, in Houlton WI, and, he loved the fellowship he experienced while participating in his weekly online Bible studies. Randy had a big heart.  His love ran deep.  And he was as humble as they come. He truly loved his family, spending time with his life partner Donna; his children Kindra, Jerod, and Molly; and grandchildren Tyler, Kaylee, Harrison, Lucy, and Charlie, teaching them how to ride four-wheelers and tractors, play games, and watching their many sporting activities.  Randy was a loyal, dedicated, and caring man, who saw the good in everyone and eagerly helped anyone in need. He loved working on projects, cutting down trees, and tinkering on engines in his pole barn. Randy was a very passionate coach and mentor who dedicated many years to coaching the "apple of his eye," his daughter Kindra Rae and continued his support through her educational and career path which includes coaching, umpiring softball, and as a certified Occupational Therapist.
Randy is survived by his:
Loving Life Partner, Donna Pechacek (Fink) of Hudson, WI;
Daughter, Kindra Witthus of Eau Claire, WI;
Stepchildren, Jerod Fink and his wife, Kari of Baldwin, WI, Molly Schacht and her husband, Ryan of Afton, MN;
Grandchildren, Tyler Fink, KayLee Fink, Harrison Schacht, Lucy Schacht, Charlie Schacht;
Mother, Verone Witthus of Glencoe, MN;
Siblings, Dave Witthus and his wife, Betty, of Glencoe, MN,
              Gail Jungclaus of Lake City, MN,
              Rick Witthus and his wife, Kelly of Victoria, MN,
              Larry Witthus and his wife, Denise of Chaska, MN;
Donna's Siblings, Colleen Holm of The Villages, FL, Rita Cudd and her husband, Jack of River Falls, WI, Tracy Pechacek of Marine on St. Croix, MN, Donald Pechacek Jr. of River Falls, WI, Maureen Pechacek and her husband, Maynard Howe of Las Vegas, NV, Tim Pechacek and his wife, Janice of River Falls, WI, Angela McMorrow and her husband, Len of Woodbury, MN.
Both Randy and Donna have many dear friends and large extended families that include many nieces and nephews, who he impacted and were a very important presence in Randy's life.   
Randy was preceded in death by his father, Earl Witthus; Donna's parents, Elizabeth (Peg) and Donald Pechacek, Sr., Donna's infant brother, and Donna's brother-in-law Ron Holm.
Blessed be Randy's memory.  As he often quoted, "…. with God all things are possible." (Matthew 19:26)