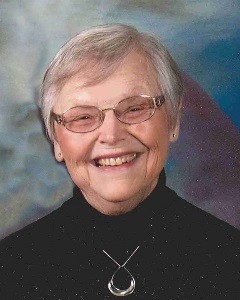 Service Information
Renae Jensen, age 73, of Glencoe, Minnesota, passed away Saturday, July 30, 2016, at her home in Glencoe, Minnesota.
Funeral Services will be held Saturday, August 6, 2016, 11:00 A.M. at First Evangelical Lutheran Church in Glencoe, Minnesota, with interment following in the Glencoe City cemetery.
Visitation will be held Friday, August 5, 2016, from 4:00 – 8:00 P.M., at the Johnson-McBride Funeral Chapel in Glencoe, and will continue one hour prior the service at the church.
Visitation/Gathering
Johnson-McBride Funeral Chapel
1222 Hennepin Avenue
Glencoe, MN
Website:hantge.com
Service
First Evangelical Lutheran Church
925 13th Street E
Glencoe, MN
Funeral Chapel
Johnson-McBride Funeral Chapel
1222 Hennepin Avenue
Glencoe, MN 55336
Phone:(320) 864-3737
Cemetery
Glencoe City Cemetery
301 Chandler Ave. N
Glencoe, MN
Obituary
Renae Lois Jensen was born on April 22, 1943, in Mankato, Minnesota.  She was the daughter of Owen and Bonnie (Cramer) Jones.  Renae was baptized on July 16, 1950, by Rev. M. Hudson and later was confirmed in her faith as a youth on December 9, 1956, by Rev. B. G. Witt both at Beauford Ev. United Brethren Church in Beauford, Minnesota. Renae graduated with the Mapleton High School Class of 1960.  She furthered her education receiving a Bachelor of Science degree at Mankato State University where she majored in Library Science and minored in English and German, graduating in 1963.
On June 19, 1965, Renae was united in marriage to Charles "Chuck" Jensen by Rev. Harold Kraft at Beauford Ev. United Brethren Church. Their marriage was blessed with three children, Kay, Gary and Dean. The couple made their home on a farm north of Glencoe until 2006 when they moved into Glencoe.
Not only did Renae teach, she had a heart of a teacher.  She taught in Glencoe and Brownton.  After her children were born and being a farmer's wife, she found being a substitute teacher worked so well, being able to aid students in their learning, yet able to help on the farm.  Renae helped in the school districts of Glencoe, First Ev. Lutheran, St. Pius X in Glencoe, Emanuel Lutheran in Hamburg and St. John's Lutheran in NYA from 1975-2013.
Renae's faith was very important to her.  She was a loyal member of First Evangelical Lutheran Church where she sang in the church choir and served with the LWML.  She volunteered at the Connect Care Thrift Store and at the hospital, being one of the original members of the Glencoe Care Givers, which is now known as the Hospital Auxiliary.  Recently she was serving on the Glencoe Concert Association Board.
Renae loved crossword puzzles and word games and usually beat her opponents.  She enjoyed counted cross stitch, crocheting, singing, reading, cooking, gardening, playing both the piano and clarinet.  Renae will be remembered for her caring spirit and her friends will miss being able to call her because she had a knack for remembering names and past events.  Renae loved her family dearly and treasured attending her grandkids' events.
Renae passed away on Saturday, June 30, 2016, at her home at the age of 73 years, 3 months and 8 days. 
Blessed be her memory.
Renae is survived by her:
Husband, Charles "Chuck" Jensen of Glencoe, MN;
Children, Kay Young and her husband, Kevin, of Waconia, MN,
Gary Jensen of Minnesota Lake, MN,
Dean Jensen and his fiancée, Ruth Rathbun, of Woodbury, MN;
Grandchildren, Dustin Jensen, Dalton Jensen, Hannah Jensen, Alyssa Jensen, Bonnie Young, Aaron Young;
Brother, Roger Jones and his wife, Sheri, of Grapevine, TX;
Sister, Elaine Jennings and her husband, Roger, of Simi Valley, CA;
Nieces, Nephews, Cousins, Other relatives and many friends.
Renae is preceded in death by her Parents, Owen and Bonnie Jones; Brothers and Sisters-in-law, Alvin and Laura Schiroo, Elvin Jensen Jr.