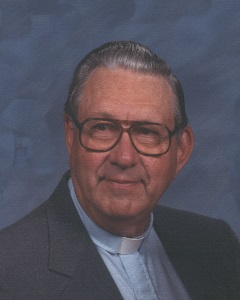 Service Information
Reverend Charles Lindgren, age 91, of Gaylord passed away Friday, September 23, 2022, at the Good Samaritan Society in Waconia.
Memorial Service will be Saturday, October 1, 2022, 11:00 A.M. at American Lutheran Church in Gaylord with interment at a later date in Oakland Cemetery at Oakland, Nebraska.
Gathering of Family and Friends will be one hour prior to the service at the church on Saturday.
Military Honors by the Manthey-Asmus American Legion Post #433.
Memorials preferred to World Mission Prayer League or American Lutheran Church.
Visitation/Gathering
American Lutheran Church
911 8th Street
Gaylord, MN
Service
American Lutheran Church
911 8th Street
Gaylord, MN
Funeral Chapel
Egesdal Funeral Home
74 Main Avenue
Gaylord, MN 55334
Phone:(507) 237-2388
Cemetery
Oakland Cemetery
498 S. Charde Ave.
Oakland , NE
Obituary
Charles Fredrick Lindgren was born on June 22, 1931, east of Lyons, Burt County, Nebraska, the son of J. Sephus and Hannah (Bring) Lindgren. He was baptized on July 5, 1931, in the family home at the foot of his mother's casket before her funeral at First Lutheran in Oakland, Nebraska. Left motherless at nine days of age, he was cared for by his sister, Alice during the summer and then in September of 1931, Dr. and Mrs. Harry W. Benson cared for him at their home in Oakland until he was one. At that time, he returned to his father's home.
Charles moved with his father and the family to a farm north of Lyons in 1943, and to a farm east of Walthill, Nebraska, in 1944. He attended Viles and Jefferson rural schools near Lyons, Nebraska, and entered Walthill High School and was a graduate of the Class of 1948. Charles attended Lutheran Bible Institute in Minneapolis, Minnesota, and Luther College in Wahoo, Nebraska. He graduated from Bethany College in Lindsborg, Kansas, in 1953, where he had met Marjorie Cederberg.
On June 12, 1954, Charles was united in marriage to Marjorie Cederberg by Reverend Carl Cederberg and Reverend Clifford Lindgren at Bethel (formerly Enne) Lutheran Church in Laing Township, south of Herndon, Kansas. Charles and Marjorie shared 69 years of marriage.
In 1953, Charles entered the Augustana Seminary at Rock Island, Illinois. On October 14, 1954, he enlisted in the United States Army and served with the Medics until September 18, 1956, which included one- and one-half years in Giessen, Germany. Charles received the Army of Occupation Medal and the Good Conduct Medal. After being discharged from the Army, Charles and Marge lived for two years in Herndon, Kansas, where they farmed.
Returning to Seminary in 1958, Charles served his internship in Des Moines, Iowa. He was ordained on June 18, 1961, at the National Convention of the Augustana Lutheran Church in Seattle, Washington, and pastored his first parish at Prentice and Westboro, Wisconsin. He served there until January of 1966, when he and his family left for the mission field of the World Mission Prayer League in Bolivia, South America. Two- and one-half years later, they returned to the United States and since that time, Charles has served churches in Niobrara-Lindy, Nebraska; Hallock, Bethel, Roseau, and Salol, Minnesota, Viborg and Gayville, South Dakota, Haven and Hanover, Kansas; retiring on July 31, 1996.
Charles and Marge built a home in Hendricks, Minnesota, on the lake, near Marshall, Minnesota. During retirement, he served as an interim pastor in Porter and Minneota, Minnesota, Astoria, South Dakota, Madison, Lake Benton, Wabasso, Lucan, Milroy, and Garvin, Minnesota. He has also done a lot of pulpit supply.
Charles enjoyed gardening, fishing and golfing. He loved spending time with his family.
After a fall on June 3, 2022, he needed more assistance with his daily care. Charles became a resident of the Good Samaritan Society in Waconia and passed away there on Friday, September 23, 2022, at the age of 91 years. Blessed be his memory and faithful service to our Lord.
Charles is survived by his:
Wife,                      Marjorie Lindgren of Gaylord, MN;
Children,                Cheryl Lindgren of Gaylord, MN,
                                Timothy (Kay) Lindgren of Brookings, SD, and
                                Daniel (Lesa) Lindgren of Monument, CO;
Grandchildren, Nathaniel (Ashley) Lindgren of Sioux Falls, SD, Jesse (Lucas) VanLeeuwe of New Ulm, MN, Joseph Lindgren of Monument, CO, and Thomas Lindgren of Monument, CO;
Great-Grandchildren, Lorelai and Jensen VanLeeuwe of New Ulm, MN, Lincoln, Logan, and Maverick Lindgren of Sioux Falls, SD;
Sister, Marilyn Fuchser of Pender, NE;
Nieces, Nephews, other relatives and friends.
Charles was preceded in death by his Parents, J. Sephus and Hannah Lindgren; Siblings, Linnea (Vernon) Young, Alice (James) Gill, Clarence (Alice) Lindgren, Olive (Jim) Ricey, Reverend Clifford (Jackie) Lindgren, Paul (Evelyn) Lindgren, and Evelyn (Ralph) Carlson; Brother-In-Law, Dale Fuchser.