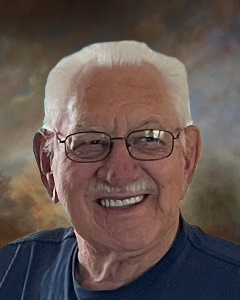 Service Information
Robert B. Flemming, husband of Patty, age 90, of Hutchinson, Minnesota, passed away on Monday, March 6, 2023, at Ridgeview Hospital in Waconia, Minnesota.
No Service will be held at this time.
Funeral Chapel
Dobratz-Hantge Funeral Chapel
899 Highway 15 South
Hutchinson, MN 55350
Phone:(320) 587-2128
Obituary
Robert "Bob" Ben Flemming was born on September 26, 1932, in Cosmos, Minnesota. He was the son of Ben and Alene (Emmerson) Flemming. Bob received his education in Hutchinson through tenth grade. Later on, Bob received his Barber's Certificate.
Bob entered active military service in the United States Army on February 4, 1953, and served his country during the Korean War. He received an Honorable Discharge on January 27, 1955, at Fort Sheridan, Illinois, and achieved the rank of Private First Class.
On November 29, 1991, Bob was united in marriage to Patricia "Patty" Callier at Chapel in the Hills in Rapid City. Bob and Patty resided in Mayer, and later moved to Hutchinson in June 3, 2013. They shared 31 years of marriage.
Bob had many jobs over the years including, construction, custodian, truck driver, barber, and his favorite, bus driver. For many years, Bob would drive bus in the morning, work at the barber shop he owned and operated in Mound, Minnesota, until school was out, and then drive bus in the afternoon. Bob was known for his great head of hair, and the children would ask if they could feel it, to which he happily obliged. He also had his own hobby farm for 50 years.
Bob enjoyed the outdoors, camping, hunting, fishing. He also enjoyed bowling and was on several bowling leagues up until recently. Bob especially enjoyed spending time with his family, grandchildren, great grandchildren, and friends.
Bob passed away on Monday, March 6, 2023, at Ridgeview Hospital in Waconia, Minnesota, at the age of 90 years.
Blessed be his memory.
Bob is survived by his:
Wife, Patty Flemming of Hutchinson, MN;
Children, Rick (Rhonda) Flemming,
Lorrie (Steve) Wittig,
Sandy (Steve) Fix,
Vern Flemming,
Angie Seifert,
Jeff (Patty Koellen) Seifert,
Randy (Michelle) Seifert,
and Kyle Seifert;
18 Grandchildren;
23 Great Grandchildren;
Many other relatives and friends.
Bob is preceded in death by his Parents, Ben and Alene Flemming; Siblings, Kanton (KR) Flemming, Darrell Flemming, Karen Fries.