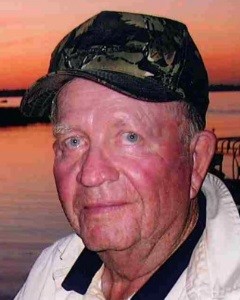 Service Information
Robert "Bob" Hage, known to many as Coach Hage, age 88, of Hector, passed away Friday, December 16, 2016, at the St. Cloud Hospital in St. Cloud, Minnesota.
Memorial Service will be held Tuesday, January 3, 2016, at 11:00 A.M. at St. Paul's Lutheran Church in Hector.
Gathering of Family and Friends will be Monday, January 2, 2016, from 4:00 – 8:00 P.M. at St. Paul's Lutheran Church in Hector. Prayer Service will begin at 7:30 P.M. Visitation will continue on Tuesday at 10:00 A.M., for one hour prior to the service at church.
Visitation/Gathering
St. Paul's Lutheran Church
500 Cedar Avenue East
Hector, MN
Service
St. Paul's Lutheran Church
500 Cedar Avenue East
Hector, MN
Funeral Chapel
Hughes-Hantge Funeral Chapel
311 Main Street S.
Hector, MN 55342
Phone:(320) 848-6297
Cemetery
Fort Snelling National Cemetery
7601 34th Avenue S
Minneapolis, MN
Obituary
Robert R. Hage was born March 24, 1928, in Minneapolis to Abner and Alice Hage. He was baptized May 22, 1928 at Nokomis Lutheran Church. He was confirmed May 24, 1942, at our Redeemer Lutheran Church in Minneapolis. Bob attended Ericsson Elementary, Nokomis Jr. High, and graduated from Roosevelt High School. He excelled in football, baseball, and hockey. In October of 1946 Bob enlisted in the Army. He served as an Honor Guard to General Douglas McArthur in Japan. He returned home in January of 1948, and started college at Augsburg. During his college years, Bob resumed his love of sports, playing football, hockey, and baseball. He was known for his outstanding athletic abilities.
Bob married Donna Petersen at Lamberton on March 24, 1951. They were parents of Steven, Richard, and Robert Jr. Bob taught and coached at Alden, Minnesota, and Butterfield, Minnesota, and then at Hector for 20 years. He enjoyed coaching and had many exceptional players and teams. He valued each player and referred to them as his boys. He also worked at Witte Ford as parts man for many years. Bob enjoyed hunting, fishing, and golfing. He won many golf championships at area golf courses. He enjoyed watching his grandsons catch fish,  and participate in their sporting events.
On Friday, December 16, 2016, Bob passed away at the St. Cloud Hospital, having reached the age of 88 years. Blessed be his memory.
Bob is survived by his:
Wife, Donna Hage, of Hector;
Sons, Steven Hage of Longville, Minnesota,
          Richard Hage and his wife Bridget, of Eagan, Minnesota,
          Robert Hage Jr. of Atwater, Minnesota;
Two grandsons, Connor and Matthew;
nieces, nephews, other relatives, and many friends.
He was preceded in death by his parents and brother.