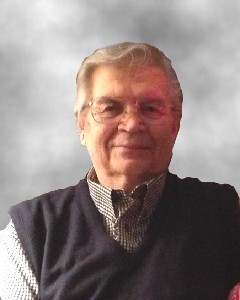 Service Information
Robert "Bob" Lind age 83, of Winthrop, passed away Wednesday, December 16th, 2015, at Oak Terrace Health Care Center in Gaylord.
Funeral Service will be Tuesday, December 22nd, 11:00 A.M. at First Lutheran Church in Winthrop with interment in the Winthrop Cemetery.
Visitation will be Monday, December 21st, from 4:00 P.M.-7:00 P.M. at the Dalin-Hantge Funeral Chapel in Winthrop. Visitation will continue one hour prior to the service at the church on Tuesday.
Military Honors by the Winthrop Honor Guard
Visitation/Gathering
Dalin-Hantge Chapel
209 W 2nd Street
Winthrop, MN
Website:hantge.com
Service
First Evangelical Lutheran Church
213 N Hennepin
Winthrop, MN
Funeral Chapel
Dalin-Hantge Funeral Chapel
209 West Second Street
Winthrop, MN 55396
Phone:(507) 647-5326
Cemetery
The Winthrop Cemetery
Winthrop, Sibley County
Winthrop, MN
Obituary
Robert "Bob" Dean Lind was born on March 29, 1932, in Duluth, Minnesota. He was the only child of Helmer and Ida (Just) Lind. He was adopted by the Linds at the age of 5 ½. Bob was baptized as an infant on May 27, 1932, and was later confirmed in his faith as a youth on June 2, 1946, at First Lutheran Church in Winthrop. Bob received his education in Winthrop and was a 1950 graduate of the Winthrop High School.
After 2 ½ years of farming with his father, he enlisted in the United States Army on January 20, 1953, and spent three years in the military during the Korean Conflict. He was stationed in Camp Pickett, Virginia; Chicago, Illinois; and Fitzsimons Army Hospital in Denver, Colorado, as an operating room specialist. Bob received the National Defense Service Medal and was Honorably Discharged on April 19, 1956. Bob achieved the rank of Sergeant. He was a patriotic man and was proud to have served his country.
On June 21, 1953, Bob was united in marriage to Elizabeth Lou Monson at Bernadotte Lutheran Church by the Reverend Stanley Swanson. After their marriage, the couple resided in Chicago, Denver, Wausau, and Winthrop. Bob was employed in procurement at Kraft Foods in New Ulm, Minnesota, and later working out of the Kraft offices in Green Bay, and Wausau, Wisconsin. He retired on August 1, 1992, after 36 ½ years. They were blessed with two children who brought much happiness to them. Bob and Lou shared 62 wonderful years of marriage.
A loving family man, Bob took great pleasure in spending time with his family, especially his children and grandchildren. He also enjoyed spending time with his friends in Winthrop. He was an outgoing man who was always interested in the lives of others. He was truly a friend to all.
Bob was a member of First Lutheran Church in Winthrop, and served as a church council member, church treasurer, cemetery board member and cemetery treasurer. He was also a member of the Lions Club and the American Legion Post #314.
Bob happily filled his leisure time with golfing, hunting, fishing, reading, and antiquing. For more than 40 years, he enjoyed his annual deer hunting trips to northern Minnesota with his hunting friends and family. Bob loved to travel and Bob and Lou together enjoyed their many trips to Hawaii, the Caribbean, Alaska and Europe.
When he needed assistance with his daily care, Bob became a resident of Oak Terrace Health Care Center and passed away there on Wednesday, December 16, 2015, at the age of 83 years. Blessed be his memory.
Bob is survived by his:
Wife, Lou Lind of Winthrop, MN;
Son and Daughter-In-Law, Blaine and Terry Lind of Monroe, WI;
Daughter and Son-In-Law, Joni and John McLean of Eagan, MN;
Four Grandchildren, Kalen (Jenny) Lind, Connor Lind, John McLean Jr. and Kristine McLean;
Great-Grandchildren, Ashton and Brecklyn Lind;
Other relatives and friends.
Bob was preceded in death by his parents, Helmer and Ida Lind; and infant grandson, Robert Russell McLean.
The family wishes to thank the Oak Terrace staff for their loving care.