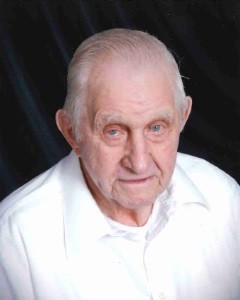 Service Information
Robert "Bob" Theuringer, age 94, of Hutchinson, passed away Sunday, November 5, 2017, at the Hutchinson Health Hospital.
Funeral Services will be Friday, November 10, 2017, 2:00 P.M. at Zion Lutheran Church in Lynn Township, McLeod County. Interment in the Zion Lutheran Church Cemetery.
Visitation will be Thursday, November 9, 2017, from 5:00 to 7:00 P.M. and will continue one hour prior to the service ALL AT THE CHURCH.
Visitation/Gathering
Zion Lutheran Church - Lynn Township
16496 Vale Avenue
Hutchinson, MN
Service
Zion Lutheran Church - Lynn Township
16496 Vale Avenue
Hutchinson, MN
Funeral Chapel
Dobratz-Hantge Funeral Chapel
899 Highway 15 South
Hutchinson, MN 55350
Phone:(320) 587-2128
Cemetery
Zion Lutheran Cemetery (Lynn Twp)
16496 Vale Ave., Lynn Township, rural Hutchinson
Hutchinson, MN
Obituary
Robert "Bob" Hugo Theuringer was born on October 31, 1923, in Acoma Township, Minnesota, to Hugo and Helen (Baseman) Theuringer. Bob was baptized as an infant on November 23, 1923, and was later confirmed in his faith as a youth on May 16, 1937, both at Immanuel Lutheran Church in Acoma Township.  He received his education at Immanuel Lutheran Parochial School in Acoma Township and was a graduate of the Hutchinson High School Class of 1941.
On September 24, 1946, Bob was united in marriage to Betty Paul at St. Paul's Lutheran Church in Litchfield, Minnesota. This marriage was blessed with two children, Linda and Mark. Bob and Betty farmed in Lynn Township, Minnesota. They shared 71 years of marriage.
He was a member of Zion Lutheran Church in Lynn Township and was on the Church Council for many years. He served on the Lynn Township Board for 24 years.
Bob loved fishing, hunting, traveling, and raising and tending to his cows, mules, and donkeys. He especially enjoyed spending time with his family, children, grandchildren, great-grandchildren and friends.
When Bob needed assistance with his daily care, he became a resident of Harmony River Living Center in Hutchinson in January of 2017. Bob went to meet his Lord on Sunday, November 5, 2017, at Hutchinson Health Hospital, at the age of 94 years.
Blessed be his memory.
Bob is survived by his:
Wife, Betty Theuringer of Hutchinson, MN;
Children, Linda Prouty of Bagley, MN,
                Mark Theuringer and his wife, Wendy of Hutchinson, MN;
Grandchildren, Jody Negan (Byron), Denise Pikarski (Dana), Daniel Riewer (Sarah), Matt Riewer (Debbie), Dustin Theuringer, Robert D. "Bobby" Theuringer, Becky Magoon (Travis);
19 Great-Grandchildren;
Sisters, Helen Beckstrand of Plymouth, MN,
             Ruth Rickeman and her husband, Marty of NY;
Brothers-In-Law, James Paul of Silver Lake, MN;
             Sisters-In-Law, Geraldine Theuringer of Hutchinson, MN, Donna Heairet of Plymouth, MN, Mary Vanderaul of Florida and Eunice Paul of Litchfield, MN;
Nieces, Nephews, and many other relatives and friends.
Bob is preceded in death by his Parents, Hugo and Helen Theuringer; Sisters, Betty Lemke and her husband, Melvin, Mary Smith and her husband, Shirley; Brothers, William Theuringer, John Theuringer, and Richard Theuringer; and Brother-In-Law, Wallace Beckstrand.