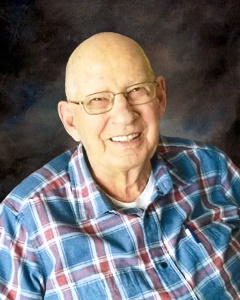 Service Information
Robert "Bob" W. Morehouse, age 86, husband of Gloria, of Hutchinson, Minnesota, passed away on Saturday, October 8, 2022, at Harmony River Living Center in Hutchinson.
Private Family Memorial Service will be held.
Funeral Chapel
Dobratz-Hantge Funeral Chapel
899 Highway 15 South
Hutchinson, MN 55350
Phone:(320) 587-2128
Obituary
Robert "Bob" Webster Morehouse was born on November 13, 1935, in Andover, South Dakota. He was the son of Archie and Emma (Raeder) Morehouse. Bob was baptized as an infant and was later confirmed in his faith as a youth at the Andover Methodist Church. He received his education in Andover, and was a graduate of the Andover High School Class of 1953. Bob participated in all sports in high school. He furthered his education at Ellendale College in Ellendale, North Dakota, on a basketball scholarship. Bob was an outstanding basketball player in college and received many awards. He graduated from college with a Bachelor's Degree in Teaching in 1957.
Bob began teaching and coaching in Alsen, North Dakota in the fall of 1957. On May 28, 1960, Bob was united in marriage to Gloria Kreklau at Redeemer Lutheran Church in Langdon, North Dakota. This marriage was blessed with four children, Tamara, Danita, Richard, and Suzette. Bob and Gloria shared 62 years of marriage.
Bob also taught and coached in Upham, North Dakota, Bottineau, North Dakota, and Larimore, North Dakota. In 1968, the family moved to Excelsior, Minnesota, before moving to Watertown, Minnesota in 1974. Bob then taught and coached for the next 26 years in Wayzata, Minnesota. He retired in 1993. Bob and Gloria moved to Hutchinson, Minnesota, in 2009. Bob was a member of Bethlehem United Methodist Church in Hutchinson.
Bob enjoyed RVing, playing cards, fishing, following high school sports, and watching the Hutchinson Huskies. He especially enjoyed spending time with his family, grandchildren, great-grandchildren, and friends.
Bob passed away on Saturday, October 8, 2022, at Harmony River Living Center, at the age of 86 years.
Blessed be his memory.
Bob is survived by his:
Wife, Gloria Morehouse of Hutchinson, MN;
Children, Tamara (Joel) Salonek of Watertown, MN,
Danita (Russ) Kuntz of Mayer, MN,
Richard (Erin) Morehouse of Bemidji, MN,
Suzette Kawlewski of North Mankato, MN;
10 Grandchildren;
14 Great-grandchildren;
Sister, Diana Ward of Indiana;
Sister-in-law, Betty (Darrel) McDaniel of Montana;
Brothers-in-law, Willis Hoffbeck of Illinois,
Alan (Harriet) Kreklau of North Dakota,
Gary Kreklau of North Dakota;
Many other relatives and friends.
Bob is preceded in death by his Parents, Archie and Emma Morehouse; Sister, Ruth Hoffbeck; Brother, Ivan (Carolyn) Morehouse.